Caring Currents
A Grandchild Steps in to Help Her Family: The Sequel
Last updated: Sep 25, 2008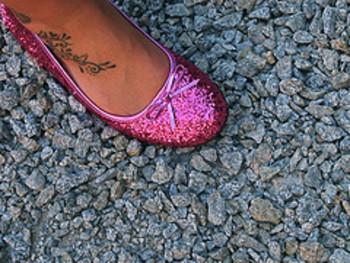 A few weeks ago, I wrote here about my niece, Casey, who traveled from Florida to Connecticut to help my parents after my mother broke her hip.
As I wrote then, my sisters and brother and I all wondered how it would work out. My parents live in a serene little New England town that shuts down by 9 p.m. every night. Most people don't color their hair unless they're over 60, and then the preferred color is a gentle blue.
My niece Casey, on the other hand, loves loud music, Salvador Dali, and partying all night. She has tattoos and piercings, and her hair is commonly a shade not found in nature. Would she miss her boyfriend, her waitressing job, and her busy social life in Florida? Would my parents, who like doing things for themselves, allow her to help them? It's been a few weeks now, so I decided to check in and see how it's going.
Casey arrived the day after my mother got home from the hospital, after hip surgery and a week of rehabilitation. My mother never had to use a walker, but was up and around on crutches just a couple of days after surgery, to the amazement of her physician and physical therapist.
The crutches make it hard to accomplish the simplest tasks, my mother reports, and she can't wait to see the last of them. Despite her cabin fever, she sounds cheerful as she lists some of the activities they've been doing to pass the time: She and Casey have worked on a difficult puzzle, watched tennis matches on TV, and visited with my brother and his family.
I could tell she was enjoying Casey's company, and that alone has been a tremendous benefit, since she can't take her customary daily walks, and it's hard to visit her friends and grandchildren. At the same time, my father gets restless when he's housebound: He likes to be outside, working or taking walks or doing projects. Clearly my mother's recovery would have been harder on both of them if Casey hadn't been there to help. "It's great to have a young person in the house," my mother says.  "Casey is so cheerful and she has so much energy."
Casey has been a tremendous practical help as well. She walks the dog, does the grocery shopping, and helps with meals. She isn't much of a cook, so they've had a lot of prepared meals, which Casey supplements with side dishes.
"She's very good at making the food look appetizing," my mother tells me.
"I'm a waitress, so I know how to do garnish," Casey explains.
Casey concedes that she misses her life in Florida, but says it's been good for her to have a change of pace. "I've been in a rut in Florida -- working, staying up late, sleeping in," she says.  "Getting away for a while has given me some perspective. In Florida, it's easy to feel like you're always on vacation." Since she's been in Connecticut, she broke up with her slacker boy friend, and when she gets back she plans to quit her waitressing job and figure out what's next. (She wants to work in the health care field, but is not sure what specific area she wants to pursue.)
Caregiving stories don't always have happy endings, of course, and things might have turned out differently if this was an ongoing caregiving situation instead of a short-term crisis. But as Casey's visit winds down and my mother gets back on her feet, it's clear that in my family's case, caregiving has had benefits for everyone involved. Casey's visit gave my parents an extra hand, my mother some additional company while she recuperated, and my father a measure of freedom.
It's been good for Casey as well. She says that my father has been giving her a mini-tutorial on the conflict in the Middle East and advice about getting out of debt. She's even cut down on her smoking habit. Helping her grandparents has given her the opportunity to reconnect with her family, look objectively at her life, and learn something about herself. "I never thought I'd like doing laundry, grocery shopping, or working around the house," she says. "But when you're doing it for people you care about, it doesn't seem so much like work."
Image by Flickr user docmarton, under the Creative Commons Attribution license.