Caring Currents
A Grandchild Steps In to Help Her Family
Last updated: Sep 04, 2008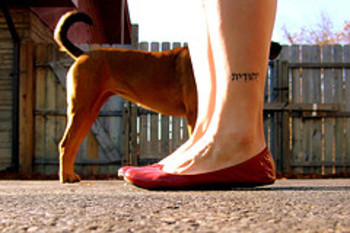 A week ago today my mother, who will turn 80 in a couple of months, fell and broke her hip. Since she has fairly advanced osteoporosis, it was a bad break. When I spoke to her by phone the next day, she was waiting to go into surgery, and she hadn't eaten since the accident. She sounded weak but cheerful, and insisted that she wasn't in pain; she'd refused the painkillers she'd been offered. I had a hard time believing that a shattered hip wasn't painful, but both my parents are stoic and consider complaining -- particularly about the aches and maladies of old age -- a particularly tiresome form of human activity.
One of the first things my mother mentioned was that she was worried about my father.  Dad just turned 80 this August and has been having his own health problems.  As she lay in bed waiting for surgery, she was fretting about how he'd manage on his own, and how he'd care for their beloved, batty dog, which not long ago yanked my father so hard across a patch of ice that he slipped and broke several ribs. 
My three sisters, my brother, and I were all worrying, too. Two of us live across country from my parents; two others live three hours away. My brother lives nearby, but he has a demanding job and two young children. We didn't want Mum to push herself to get back on her feet, but we were also concerned about Dad being alone while she went through several weeks of rehabilitation.
Enter my niece, Casey.  When she was younger, Casey was very close to my parents, spending weeks with them in the summer to help out on their small farm. They've drifted apart some in recent years as she became an adolescent, and then a young woman with a touchy temper and a mind of her own. Today, Casey, who's 20, has several tattoos, a smattering of piercings, and a streak of cynicism that she seems too young for; she's also warm and sensitive and very smart. It was her idea to go and help Mimi and Pop, as the grandchildren call my parents. "I want to spend some time with them again," she told her mother.
We're all grateful to Casey for coming to the rescue, and very relieved. We're also curious to see how the situation unfolds. Casey has a busy social life in Florida, while my parents live in a sleepy Connecticut town, where there's little body art -- and zero nightlife. At the same time, my parents are militantly independent, and have a hard time accepting help. Will they let her drive their car, walk their temperamental dog, and do their grocery shopping? Will Casey, whose concept of cooking begins and ends with the microwave, be able to manage their meals?
As my family's situation demonstrates, caregiving presents challenges, but it offers opportunities as well. In this case, it's bringing two generations back into alignment, and giving a grandchild the opportunity to connect with her grandparents in a new way. My  parents will get the benefit of Casey's energy and good humor, and she'll learn some new skills and responsibilities. There are bound to be glitches -- and good times, too. Stay tuned…
Image by Flickr user This Year's Love, under a Creative Commons attribution licence.