Caring Currents
Wish Your Time Spent Caring for Older Family Members Could Be Paid? Maybe It Can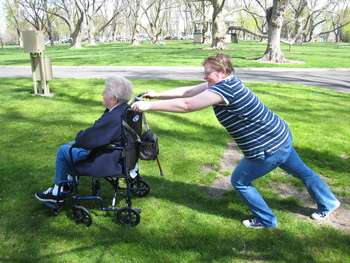 All Rights Reserved
How much time do you spend caring for a parent or other aging relative? Think about this question carefully. Do you shop, cook, and clean for someone? Do you help with daily life tasks, like medication management, bathing, and dressing? If you're helping someone with the same activities of daily living that a home health aid would provide -- and taking time away from your own work to do so -- you have probably wished you could be compensated for this care.
I know that for many of us, this idea raises uncomfortable feelings -- maybe it feels like a family duty. But think about it -- is this care similar to the type of care your relative would be paying for in a residential facility? Is it through your efforts that your family member is able to continue to live independently? If the person you're caring for lives with you or you with him, you're providing overnight care, and likely interrupting your own sleep to help him or her get to the toilet. And lastly, are you, by any chance, struggling financially yourself?
If so, it's time to look into paid caregiving options.
In many states, programs are available through Medicaid or directly through the state that compensate a senior for home health services, which he in turn can pay a family member to perform. According to Caring.com expert Joseph L. Matthews, whose article on how to get paid for family caregiving has more in-depth information, the programs typically go under the name Cash and Counseling, but state-run programs operate under a variety of names. Here's what you need to do to find out whether such programs are available where you live.
1. Find Out What's Available In Your State. If the parent, spouse, or other person you're caring for is eligible for Medicaid or may be close to Medicaid eligibility, its Cash and Counseling or other-named program could provide direct payments to your family member who could then turn around and pay you. Cash and Counseling programs are offered in Alabama, Arkansas, Florida, Illinois, Iowa, Kentucky, Michigan, Minnesota, New Jersey, New Mexico, Pennsylvania, Rhode Island, Vermont, Washington, and West Virginia. A few other states have similar programs for low-income seniors, even if the person receiving care doesn't quite qualify for Medicaid.
2. Determine If Your Family Member Qualifies for Caregiving Assistance.
If your family member isn't already receiving Medicaid, you'll need to apply for this or other state programs. This means gathering bank, tax, and other records that show how much he or she has in income and assets. Medicaid (or the other relevant cash assistance program) can then determine if they're financially eligible. If your relative's only income is from Social Security and he has no significant assets, it's quite likely he'd qualify for any direct cash payment caregiver program in your state, particularly if he has high medical costs. You can apply for your state Medicaid or other cash assistance program at your local Medicaid office. To find the local Medicaid office near you, contact the Eldercare Locator on the web or call 800-677-1116.
3. Work With Government Agencies to Determine Need. Once your family member's eligibility has been established, the Cash and Counseling or other program will come to his home to see what kinds of needs he has. They do an assessment and, based on this, offer to pay for a certain number of hours of care. Using the rate that in-home care workers are paid in your state, the agency then figures out how much in total it will directly pay to the seniors every month to help with in-home care.
5.Explore Veterans' Benefits.
If your aging family member was a veteran and qualifies for veteran's benefits from the Veteran's Administration, they offer a paid caregiving program too. Called "Aid and Attendance," it's an extra cash payment available if the veteran is disabled or needs custodial care. Consult your local VA office for more information, but beware - many local offices do not provide much information about this benefit. You may have to be pushy and dig for the facts.
6. Use Long-Term Care Insurance. If the person you're caring for has long-term care insurance that includes in-home care coverage, in some cases those benefits can be used to pay you. If your family members aren't yet collecting benefits, you can help them file a claim based on their care needs. If they qualify for monthly in-home care benefits and the policy pays them directly to them, they can use that money to pay you. However, under some policies, your family member can pay you to be his caregiver only if you're a certified home care provider. In order to get certified, you have to go through training that meets state and Medicaid requirements, which is often offered for low fees at local community colleges or adult schools. Call your county's local social services or human services department and ask them about Medicaid caregiver certification.
7. Have Your Family Member Pay You Independently. If your parent has sufficient funds to pay a caregiver, there's no reason why that shouldn't be you. In fact, this is often a great way to balance out sibling responsibilities and avoid resentments and bad feelings. If one sibling is providing the bulk of care for a parent or family member, draw up a simple contract that sets an hourly wage and an approximate number of hours per week.