Caring Currents
Gay and Lesbian Seniors Find Housing Niche
Last updated: Nov 04, 2008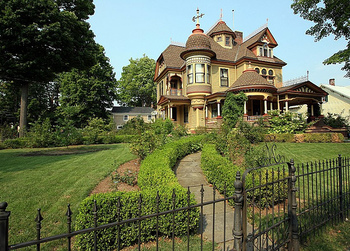 Adjusting to a communal living setting is always challenging, and if you're in a caregiving role to an elder who has recently moved into a retirement community, you can expect to get a frantic call or two early on -- maybe even a "Get me out of here!"
Usually, time resolves these settling-in anxieties. But there's one group of seniors who often face an extra set of challenges. Across the country, gay and lesbian elders who've moved to retirement communities report being ostracized, mocked, and harassed not only by fellow residents, but also sometimes by staff.
One state, California, has responded with a law aimed at preventing anti-gay bias in senior care facilities through staff training.
Another answer is retirement communities developed with the needs of gays and lesbians specifically in mind. The few already in business have waiting lists, and the others now in development are likely to see a booming business. UCLA researchers have estimated that there are 2.4 million gay, lesbian and bisexual Americans over age 55 -- roughly the population of Nevada.
In a survey by MetLife, a quarter of aging gays and lesbians named discrimination as one of their top fears about aging, and less than half expressed trust that health providers would treat them with dignity as they aged. Given these concerns, it shouldn't be surprising that gay and lesbian-specific communities are cropping up across the country.
Here are a few examples -- some open for business and others in the works:
The fact that a major developer is throwing its hat into the gay and lesbian housing market indicates that this is no passing fancy. Like other creative housing options springing up to meet the varied needs of the coming "age boom, " supply is meeting demand in innovative -- and likely lasting -- ways.
Photo by Flickr user philwarnerunder a Creative Commons attribution license.