Caring Currents
Old Meets New: High-Tech Toys Help Seniors Deal With Diabetes
Last updated: Apr 11, 2008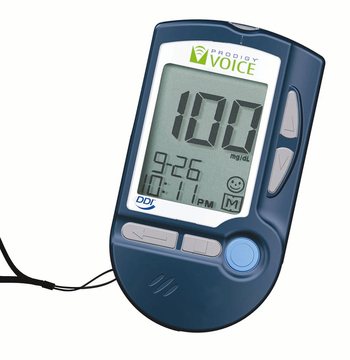 Cutting-edge inventors appear to be up to the task of designing gadgets to help take some of the hassle out of dealing with diabetes.
Check out these innovative offerings that can make daily living for you and your aging parents a little easier.
Help is in sight for the visually impaired: A new, talking glucose meter, the Prodigy Voice, allows the blind and visually impaired to check their blood glucose without assistance, reports the online newsletter Diabetes in Control . The affordable meter, designed in consultation with the National Federation of the Blind , requires only a small blood sample and provides fast results.
Address forgetfulness with advanced solutions: This article on medications describes high-tech aids to combat memory loss so your parent takes his meds on time. Or consider the MD.2 Personal Medication System, which gives verbal and text alerts, automatically dispenses pills, and monitors missed doses. Web sites like remindermed.com will call or text at specified times to prompt your parent to take his pills on schedule.
Solve safety concerns with service for solo seniors: A new offering, DiabetesResponse.com , places safety calls to people with diabetes who live alone and are concerned about severe hypoglycemia, diabetic coma, or seizures. Operators alert 911 if your parent doesn't respond, offering you and your parent peace of mind along with medical assistance.
If your parent already has experience using these or any other high-tech gismos or services, let us know whether it's made a difference in managing the disease.
And while we're on the subject of newfangled devices, what other kinds of gadgets would you like to see on the market to help your parent? Better yet: What's already out there in gadget-land that you'd recommend to others caring for a parent with diabetes?
Image of Prodigy Voice courtesy of Diagnostic Devices Inc .