Caring Currents
A Powerful New Weapon in the Fight Against Cancer
Last updated: Apr 22, 2008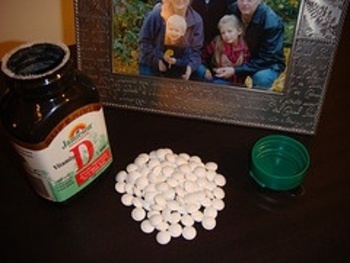 Can something this simple really be this powerful? Research published this week finally confirms what researchers have long suspected: That vitamin D lowers the risk of breast and prostate cancer.
The breast cancer connection was demonstrated by a German study , which compared more than 1300 breast cancer patients and an equal number of healthy women post-menopause, and showed that low blood levels of vitamin D led to a higher breast cancer risk . The prostate cancer link was proved by researchers at Harvard, who followed 15,000 doctors for 18 years and found that more than two thirds of those who developed prostate cancer had low levels of vitamin D.
Other studies have shown that low levels of vitamin D increase the risk of colon cancer and ovarian cancer . If you know of more interesting vitamin D research, please tell us.
So how much do you need to take? Certainly more than most people get: Studies show that 40 percent of Americans are D-deficient. Most studies have used between 1,000 and 2,000 ius, more than double the U.S. Recommended Daily Allowance (RDA) of 400 iu for those between 50 and 70. (The RDA is only 200 for those under 50 and goes up to 600 for those over 70.) Since it's not easy to get this much vitamin D from food, supplements are the way to go. Look for vitamin D3, also called cholecalciferol (the type of vitamin D used in most research) which is easier to absorb.
The payoff? According to researchers at Moores Cancer Center at UC San Diego , worldwide vitamin D supplementation could prevent  600,000 cases of breast and colon cancer a year.
What are we waiting for?
Image from Flickr user JohnKoetsier used under the Creative Commons attribution license.