Caring Currents
Save Money -- And Strengthen Family Ties -- With A Multi-Generation Vacation
Last updated: Jul 17, 2009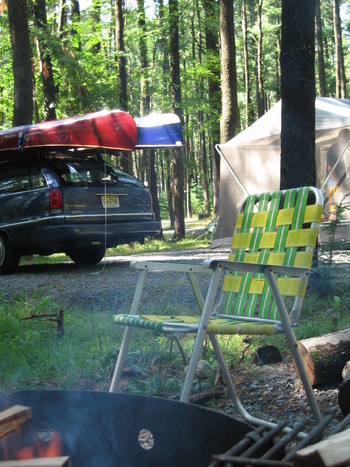 On a recent trip I was struck by the number of three-generation families I saw vacationing together. And I noticed the ways in which this arrangement works well to give everyone some much-needed relaxation while keeping costs down, as well.
I chatted with some of the families I met, and heard over and over again how the current economic crisis is leading people to try new solutions, such as combining family resources for a vacation.
I've also heard from many friends that financial troubles are preventing them from flying home to visit family over the summer, as they typically do. And, of course, this is sad for everyone.
So here, after many conversations, are some ideas for how multi-generation families can join together to help everyone afford a vacation, even in tough times:
"¢ Pick a central or accessible location based on cost. One family I met was divided between Oregon and the San Francisco Bay Area; they selected Mt. Shasta, in rural northernmost California, for an affordable meet-in-the-middle vacation.
"¢ Go camping in a trailer-friendly campground. Several families I know have come up with this ingenious plan: Mom, Dad, and kids camp, while Grandma and Grandpa stay in an RV. Meals can be shared to decrease the work, but everyone has their own private space to retire to.
"¢ Choose a bargain-basement destination with promotional prices. Hard times have hit the travel industry, too, and many hotel-rich towns, like Las Vegas, are offering rock-bottom prices to avoid high vacancy rates. Do a little research, and you can find a getaway where everyone can have a nice room with at least one meal included for half the usual cost.
"¢ Do a house trade. A popular option for years in university towns, this is one of the hot trends everywhere this summer. You can use one or more of the many home exchange websites, but you can also take advantage of your own local network. Ask around to find out if anyone you know will be away during the time your family members would like to visit; you'd be surprised how many people appreciate mature, responsible housesitters. Or you can plan the trip based on when a friend or neighbor's house will be available. Your parents or other family members may be able to do the same for you in their town.
"¢ Rent a big cabin and split the cost. Like anything else, costs tend to come down in proportion to how many people go in on them together. Every year in my family, we rent one big cabin with four or five bedrooms, and all the siblings, spouses, and kids pile in together. We've become adept at choosing locations where a big cabin rents for $1000 to $1500 a week; split this among four families, and you have a week-long vacation $250 or $350 a week.
Many people told me they'd discovered unexpected benefits to the cost-cutting. One older woman, whose three-year-old grandson was using her as a buoy in the pool, told me it was a rare pleasure for her to get that kind of unstructured time with him.
Another family group, a brother and sister vacationing with their parents, their spouses, and all the kids, told me that sharing a cabin had allowed everyone to afford two weeks at the lake instead of one. And a couple dining together at a cafe while their parents babysat told me it was the first "date" they'd had in six months.
So don't let the financial doldrums keep you from seeing family this summer, and please share your tips for making multi-generation vacations easy and affordable.