Caring Currents
Family Financial Feud: After My Father Died, My Mother and I Fought Over Funeral Costs
Last updated: Nov 13, 2009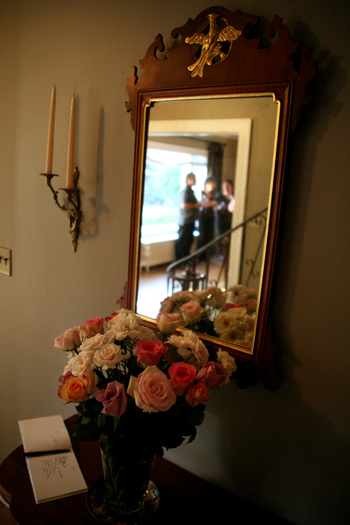 What do you do when your beloved father dies and your mother, who was his primary caregiver, won't honor his memory the way you feel she should? That's what Joanie W. is facing. It's a common family dilemma, yet no one seems to talks about it. Final arrangements and how we deal with them bring up such strong feelings, and the public aspect of a funeral or memorial service -- or lack thereof -- can trigger feelings of shame, embarrassment, sadness and -- yes, it's true -- rage. Here's Joanie's story.
"My dad died recently after a long battle with heart disease and diabetes. His last years were really tough as his health went downhill, and he became really difficult to deal with. He was sour and bad-tempered and complained all the time, and my mom took the brunt of it. In his last days, once he went to the hospital, it was like she washed her hands of him. I flew out and stayed with him and basically ended up making all the final decisions."
Joanie, who lives across the state and has a family of her own, hadn't been a hands-on caregiver, but she'd been "the responsible one" in her family, the one her parents turned to for support and advice. Now she found herself in the position of making all the arrangements for the funeral and burial, including writing the obituary, planning the service, and coordinating with those attending.
"I tried to make decisions in discussion with my mom, but she was kind of checked out, and mostly it was me. I kept thinking of my dad, and what a great guy he'd been, and all the people coming, and I wanted to do it the way he would have liked. Then afterward, when the bills came in, my mom started complaining about how much everything had cost, saying I'd spent too much. I ended up paying some expenses out of my own savings to keep the peace, but I felt resentful because she lives on my dad's money and I know he'd made provisions for his final arrangements. Meanwhile my family lives on a very tight budget, much tighter than my mom, so my husband was upset that I'd had to pay for some of the funeral costs."
Although Joanie's dad hadn't been the easiest person to get along with in his last years, he'd been a great dad when she was growing up, and was a well-liked member of the community and she felt responsible for honoring that. Yet her efforts weren't appreciated by the rest of the family.
"I know my dad was a pill at the end, and he wore my mom out. But before that, for all of our lives, he was the greatest. He was such a warm, kind person, and a lot of people knew and liked him. And I honestly think he was a good husband, too, though you wouldn't know it from how mom talks now. When I was a kid, all my friends loved my dad, and I knew the whole town would turn out for his funeral. But my mom didn't seem to care about that -- it was like she'd already put it all behind her."
The service was well attended; Joanie says she was truly touched by the people who came from far away, and the kind things people wrote in the guest book. But then came something she hadn't planned for: Many family members, friends, and members of the community made financial contributions in her dad's name.
"The final straw was when I realized that people were sending checks and my mom was just cashing them. She wasn't giving them to a charity in my dad's name or anything. She'd quibbled about the expenses of the funeral, and she didn't offer to pay me back, even when this money started coming in. I felt terrible that we weren't setting up a fund or anything. We had a horrible fight and now we're barely speaking. It feels awful because we used to be close before Dad got sick, and now everything's tense and awkward. No one will talk about what happened; it feels like everyone's ashamed and blaming everyone else."
Some of the most complicated feelings come up when a parent dies and family members find they don't see eye to eye. That seems to be especially true regarding final arrangements, because these ceremonies have such significance and importance.
Joanie's desperate for some type of resolution, so her family can move on. Do you have any thoughts or insights to offer her?