Caring Currents
A Famous Mom Dies of Alzheimer's
Last updated: May 27, 2008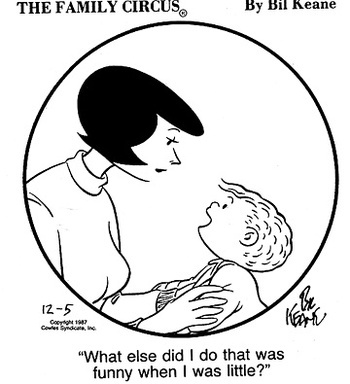 In a way, it was a sign of the times  when the inspiration for the mother in the "Family Circus" cartoon died of Alzheimer's disease last Friday, at age 82.
1960: The cartoon debuted -- as did many of us who are caregivers today. Or we were the ages of Billy, Dolly, Jeffy, and PJ, the kids in the cartoon, who were based on the five children of Thelma Keane and her cartoonist husband Bil Keane.
In the 1960s and 1970s: As we grew up, we could relate to the kids' funny comments and the invisible rascal "Not Me" who apparently lived with them and caused all the trouble.
In the 1980s and 1990s: Then, as we began having kids of our own, we could appreciate the long enduring comic on a new level, as parents. (Accordingly, the strip upgraded from a station wagon to a minivan around 1985.)
2000s: And now, here we are worrying about our own parents and seeing them through conditions such as Alzheimer's, which felled the doppleganger for the ever-calm, black-helmet-haired cartoon Mommy.  (Lucky for them, Billy, Dolly, Jeffy, and PJ haven't aged a bit, though the real-life, full-grown Jeff helps his 86-year-old dad still produce the strip.)
It strikes me as one of those oddly comforting reminders that Alzheimer's and dementia are more than a family tragedy; they're a cultural phenomenon shared by a generation. Except that when the question is who will care for an afflicted parent or loved one, many people can't say "Not Me."
Image by Bil Keane, The Family Circus. Caption: "What else did I do that was funny when I was little?"