Caring Currents
Fall Prevention: How to Stave Off Stumbles
Last updated: Jul 24, 2008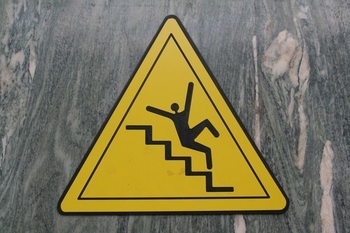 Let's begin by debunking a common myth about aging: Falling and breaking a bone isn't an inevitable consequence of qualifying for a senior discount.
And education and intervention can help the elderly cut their risk for falls by 11 percent, according to a Yale School of Medicine study published this month in the New England Journal of Medicine. Fall prevention programs resulted in almost 10 percent fewer fall-linked hip fractures and head injuries, researchers also found.
Falls are a major concern for folks over 65 because fall-related injuries can cause physical or mental decline, restrict activity and independence, and result in life-altering changes of circumstances, such as placement in a nursing home.
In recent weeks, we've advised caregivers about medications that might make their parents unsteady on their feet, weighed in on the benefits of balance training and yoga, and provided extensive suggestions about how to make your parents home a fall-free zone.
Today, a trio of tumble-prevention tips to add to the mix:
Talk with your parents' doctor. Find out if your parents are at risk for accidentally slipping by talking with their physican or other health professional. A fall risk assessment is warranted for anyone who has difficulty walking, recently taken a spill, or experienced changes in their balance or walking patterns.
People who have osteporosis, significant sight impairment, dizziness when standing, take multiple medications, or are over age 70 are at greater risk for a fall and should get checked, too, advises Jon Pynoos co-director of the Fall Prevention Center of Excellence at the USC Davis School of Gerontology.
Encourage your parents to try tai chi or pilates. While yoga may help your parents build strength and improve balance, tai chi and pilates may be more effective at improving motor control and coordination, a recent news report suggests. Tai chi, a Chinese mind-body practice that incorporates precise but gentle, flowing, dance-like movements, and pilates, a non-impact exercise designed to strengthen postural muscles and body alignment, work the hip and leg joints, and the body's core (what used to be called stomach muscles way back in the Jane Fonda workout days).
These activities may help seniors adjust their gait if they lose their balance while taking a walk. Look for instructors who have experience working with the elderly or a class specifically-geared towards seniors.
Find out how to fall to save a hip. A computer simulation of, granted, stick people, suggests that folks are much less likely to fracture a hip if they learn how to fall like a parachutist when they take a tumble. Anyone who's tried a martial arts class knows there's a "right" way to fall to avoid injuries. Crouching, leaning to one side, first landing on the outside of the lower leg, and then rolling onto the, um, booty, may prevent a hip break.
Researchers from the University of Michigan contend that age isn't a barrier to mastering this daredevil technique, but the slower reaction time that accompanies aging makes it all the more important to get a visual sense of how to fall ahead of time. Watch this movie with your parents -- you just never know when you might need to channel your inner skydiver if you find yourself slip sliding away.
Image by Flickr user Peter Krefting used under the Creative Commons attribution license.