Caring Currents
Tough Times Can Turn Seniors into Bargain Hunters
Last updated: Sep 05, 2008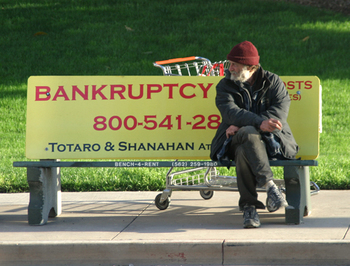 The tough economy is forcing more seniors than ever into bankruptcy, according to a new report, and leading many older people to seek out -- and find -- bargains and discounts available only to them.
In 1991, people 55 years old and up accounted for about 8% of bankruptcy filers, but by last year this group accounted for 22% of all bankruptcies, according to the report by the Consumer Bankruptcy Project.
"While the bankruptcy filing rate for those under 55 has fallen, it has soared for older Americans," according to a USA Today article. "The older the age group, the worse it got — people 65 and up became more than twice as likely to file during that period, and the filing rate for those 75 and older more than quadrupled."
Seniors -- especially those on a fixed income -- are being hit disproportionately hard by factors like the rising costs of consumer goods and gas, not to mention soaring medical expenses, the study concludes. In the face of increasingly tight budgets, many seniors are finding new ways to save money on daily expenses -- including turning to a host of Web sites dedicated to hunting down bargains and deals especially for older adults.
Rebecca Warren, a certified financial planner writing for the East Valley Tribune in Phoneix has compiled some of her favorite bargain hunting sites for seniors. These include:
Even if the store, restaurant, or hotel your parent patronizes doesn't advertise an official senior discount, many businesses will happily cut 10% off the advertised price -- if asked -- to keep a regular customer happy. As she points out: it never hurts to ask!
Photo by Flickr member The American Roadside, used under the Creative Commons Attribution License.