Caring Currents
Dr. Death Wants Your Vote
Last updated: Apr 02, 2008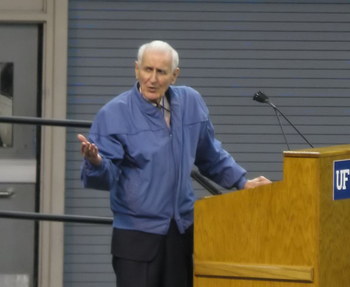 In what is already a politically heated election, Jack "Dr. Death" Kevorkian is again fueling the fires of controversy by announcing plans to run for Congress in Michigan's 9th District.
Kevorkian ignited controversy in the 1980s by steadfastly asserting his belief that physician-assisted suicide is sometimes the best form of medical care. Then, in 1998, Kevorkian audaciously starred in a 60 Minutes broadcast administering a lethal injection to a patient suffering from Lou Gehrig's disease who had asked for his help in dying. Kevorkian was convicted of homicide for that act and released after serving the minimum eight years in prison, earning time off for good behavior.
Kevorkian's political platform has only one plank: that the Ninth Amendment to the Constitution basically allows an individual to do anything as long as it doesn't hurt anyone. And in that, he includes assisting a terminally ill patient with suicide.
The recent announcement from Kevorkian, 79, has given new life to the debate on the issue of doctor-assisted suicide, along with strongly-felt pros and cons .
And it refocuses the spotlight on its legality. In 1994, Oregon enacted the first American law legalizing physician-assisted deaths -- and the U.S. Supreme Court upheld it in 2006. Several other states are considering similar legislation.
The issue still has the power to split Americans right down the middle. In the most recent Gallup poll asking whether doctor-assisted suicide is "morally acceptable," 49% said it was acceptable; 44% said it was wrong.
Where do you stand on the issue of doctor-assisted suicide?
Jack Kevorkian pictured above in a January, 2008 speech; photo with permission under the terms of the GNU Free Documentation license.