Caring Currents
Can You Keep Type 2 Diabetes at Bay With a Mediterranean Diet?
Last updated: Jun 06, 2008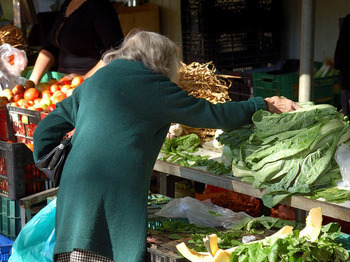 Fish. Olive oil. Fruits and vegetables. Nuts. Legumes. Wine. A diet that favors these foods in moderation and downplays animal products -- staple mealtime menus in countries such as Italy and Greece -- has long been heralded as just the kind of heart healthy fare folks should put on their plate, wherever they reside.
The traditional Mediterranean diet got another huge thumbs up last week in coverage that spanned the globe -- from the U.S. and Iran to Ireland and India -- when  a Spanish study found that consuming this flavorful fare may go a long way to warding off type 2 diabetes as well. 
The more closely participants in the study held to the diet, the more they reduced their risk of being diagnosed with diabetes. And those who held to it most strictly reduced their risk for the disease by a whopping 83 percent. Wow.
Scientists suspect that eating these unprocessed offerings may provide multiple health benefits , including reducing inflammation, known to accelerate aging and exacerbate chronic conditions such as diabetes, arthritis, and heart disease. Such foods have also been linked to a lower risk of developing Alzheimer's disease .
The Mediterranean diet is getting so much healthy press that Spain is trying  to persuade the United Nations Educational, Scientific, and Cultural Organization (UNESCO) to add the cuisine to the world heritage list .
How can you get more of this culinary fare on your parent's menu? A search on Amazon using the words "mediterranean diet," brings up more than 160 cookbooks touting this style of eating. But don't get hung up on the fancy-pants label: Basic grilled salmon, roasted veggies, and fruit salad, washed down with a glass of red, fills the bill. Likewise, this month's Diabetes Forecast is full of gourmet recipe ideas featuring humble yet wholesome green veggies. Do you have a Mediterranean-inspired dish you'd like to share?
Image by Flickr user Rosino used under the Creative Commons attribution license.