Caring Currents
Diet Linked to Diabetes Risk
Last updated: Jul 31, 2008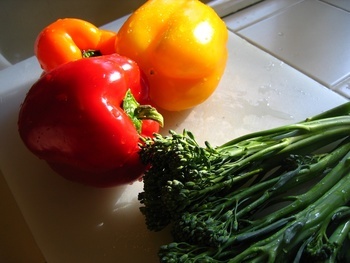 A trio of new studies in the Archives of Internal Medicine confirm what dieticians and diabetes educators have been saying ad nauseum to people who want to avoid type 2 diabetes: Diet matters. And calories count -- big time.
The bottom line: Your best bet to stave off a diabetes diagnosis is to cut intake of high-energy, low-nutrient foods so you don't pack on the pounds.
In short:
Eliminate regular sodas and sweetened fruit drinks from the beverage list.
A 10-year study of almost 44,000 African American women -- who are at greater risk for diabetes than their Caucasian counterparts --  found that those who drank two regular soft drinks every day were 24 percent more likely to be diagnosed with type 2 diabetes than women who drank less than one soft drink per month. Weight gain caused by empty calories may be the likely culprit.
Of note: Diet sodas, orange juice, and grapefruit juice were not linked to an increased risk for the disease.
Eat your greens -- and your reds, oranges, yellows, and purples too.
Fruits and vegetables may keep diabetes at bay. Researchers followed folks for 12 years and reported that those with high blood levels of vitamin C -- found in abundance in such produce as bell peppers, kiwi fruit, broccoli, and strawberries -- were 62 percent less likely to develop diabetes than folks with lower levels of the nutrients. People who ate five to six servings of fruits and veggies per day cut their risk for the disease by 22 percent.
Cut back on fat -- but  get active and lose weight as well.
Findings from an eight-year study of 46,000 healthy postmenopausal women found little evidence that a low-fat diet alone is enough to steer clear of diabetes. Half the group were asked to reduce dietary fat to 20 percent of their daily calories -- a significant drop from around 38 percent at the start of the study -- though few actually reached this target (most ran in the 24-29 percent range). And these folks weren't asked to shed excess weight or get exercise either, both interventions that researchers suspect would have made a difference on the diabetes front.
This news on the heels of recent findings in the New England Journal of Medicine that a low-carb diet (think Atkins fans from Hollywood) and a Mediterranean diet (visualize svelte European women) may be as effective at achieving weight loss than the standard, medically prescribed low-fat diet. (In a recent blog post I discussed new findings that indicate the Mediterranean diet may ward off diabetes as well.)
Of course, your parents' doctor may have sound medical reasons for recommending that your folks stick with a low-fat mealtime regimen -- avoiding heart attack and heat disease come immediately to mind. So don't make any dietary changes without consulting a health professional first.
Obviously, no single way of eating works for all.  But here's something few would argue: Most folks -- young, old, or in-between -- could eat more fresh fruits and veggies, while enjoying countless health benefits in the bargain.
Image by Flickr user Bob Bradburn used under the Creative Commons license.