Caring Currents
Better Sleep for Dementia Caregivers: Two Fresh Solutions
Last updated: Aug 22, 2008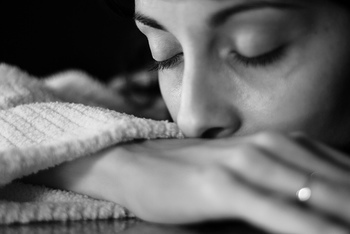 Nighttime can be nightmarish for those who live with someone in the moderate-to-advanced stages of dementia. The sleep patterns of caregivers over age 60 who provide direct, live-in care for people with dementia are significantly worse than those of noncaregivers, says a study in the new Journal of Clinical Sleep Medicine. These caregivers:
Get less total sleep (an average of 6.5 hours per night)
Take longer to fall asleep
If you already know basic good-sleep habits and are taking steps to minimize sundown syndrome and wandering (common sleep disruptors), what else can you do to solve the sleep puzzle? Here are two fresh ideas to consider:
1. Night respite care
I recently wrote about vacation respite care. Watch for night care to become the newest variation in the fast-growing respite care field. An innovator: the ElderServ at Night drop-in care program run by Hebrew Home in Riverdale, New York. It runs 7 p. m. to 7 a. m., with door-to-door service for a night of activities and rest, at $215 a night. Sound like a dream? It's even covered by Medicaid. Unfortunately, it's still a rarity.
Although you're not likely to find such a program in your backyard now, here's a related, more available option: Hire in-home night respite: an aide (through a home-healthcare agency) to help you through the night once a week, before important work events, or as often as can be managed.
2. A depression evaluation
University of Florida sleep researchers note that difficulty falling asleep can be a sign of depression, a condition hands-on caregivers are at elevated risk for. Depressed caregivers had the poorest sleep overall.
Don't write off symptoms like sleep disturbance, changes in appetite and energy level, and low mood as "part of the job" of caregiving. Depression is a treatable condition. Managing it with therapy (talk and/or drug) and lifestyle adjustments won't change the challenges you face caring for a loved one with dementia -- but it will fortify you to cope with them better. And maybe sleep more soundly, too.
Image by Flickr user Mayr's photostream, used under the Creative Commons attribution license.