Caring Currents
Dementia Changes People, But People They Still Are
Last updated: Dec 01, 2009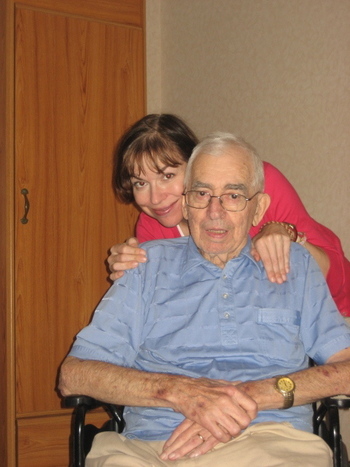 Dementia changes personalities. We all know that. It's natural to mourn the person who once was ""- but it's also, I'm afraid, easy to get stuck in that mode. To mostly see what once was, without a full appreciation of the value and pleasure to be found in the altered person who sits before us today.
I was reminded of all this at the recent memorial service for my late dad (who had dementia, though he died of renal cancer). I'd never really thought about the many, equally valid ways of seeing him until I listened to the different reminiscences brought forward that day.
First, we saw a tribute video that my brother John had created. It showed the arc of a man's life, from big-eyed boy on a tricycle in the 1920s through dashing groom, family man (of an ever-growing family), and retiree and widower.
Then I gave the [eulogy] (https://www.caring.com/articles/eulogy-for-sylvester-patyk-by-his-daughter-paula-spencer), retelling the highlights of his life, albeit from the perspective of a middle daughter. An excerpt:
"Our growing-up years could have been a wholesome '60s and '70s sitcom "" complete with laugh track, since Dad was pretty funny. "Act natural!" he'd say when he sprang on you with his ever-present camera"¦and then fiddled so long with the lenses and settings that the spontaneous smile on your face froze -- or you cracked up. Every Father's Day, we actually believed he was thrilled to get the same tie, box of chocolate-covered cherries, golf tees, and Old Spice soap-on-a-rope: 'Gee! Just what I wanted!'">>
Those long-view life stories captured the dad I knew best. But at the point in the service where others stepped forward to share reminisces, many described the tail-end of Dad's life:
A member of the Methodist congregation my staunchly Catholic dad had visited over his last years while living with my now Methodist brother spoke about how friendly he was and how happy he seemed to be there.

One of the hired elder companions shared how when she'd park in a handicapped space so he wouldn't have to walk far (he was verrrrry slow at the end, the result of a stroke), he'd invariably say, "You're parking in a handicapped spot? Okay, when I get out, I'll limp!"

And at least three of his 14 grandchildren fondly told stories about how he told the same stories over and over again, and asked the same questions over and over. That was how they knew Grandpa, the sweet funny guy with the faulty memory stick.
After the service, too, a nurse at the nursing home where he spent his last four months in stroke rehab "" the nurse he'd described on his deathbed as having "the face of an angel" "" came up to tell me how sweet and dear he'd been. When it was clear he was dying, she'd fled to weep.
So at a time in his life when those who knew him forever were mourning the "old him," many people were still meeting and enjoying this brand-new him. ([This post] (https://www.caring.com/blogs/wise-care-for-older-patients/twelve-advantages-of-being-old) is a sweet reminder of how doctors who treat the old see this all the time.) I know I knew, on some level, that Dad was still funny and sweet even if he was diminished and forgetful. But it was very hard to set aside the robust dad I missed. For spousal caregivers, this can be near-impossible.
I'm sharing this long-winded tale to tip my hat to those who can set aside their grief over the person who was to more fully enjoy the person who's left. It's hard. But it helps.