Caring Currents
When Money Is Tight, More People Cut Back on Healthcare
Last updated: Oct 03, 2008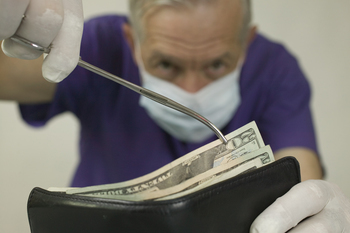 During these rocky economic times, an increasing number of people are sacrificing their health to save money and cut back on spiraling health care costs, reports the Wall Street Journal.
When faced with skyrocketing premiums, deductibles, and prescription drug costs, more people are choosing to skip doctors visits and forego their prescription drugs, according to the article, which found that:
22 percent of people surveyed said that they were going to the doctor less often because of money woes, while in a different survey, 11 percent said they were cutting back on filling their prescriptions.
The number of total prescriptions filled fell 0.5 percent in the first quarter and 1.97 percent in the second, compared with the same periods in 2007 -- the first negative quarters in at least a decade.
Drugstores like Walgreens are reporting slower sales of prescription drugs.
Health services company LabCorp. says that blood tests and lab work are down 8 percent in the second quarter of 2008, compared with the 1 percent quarterly growth it usually sees.
Seniors on Medicare are finding the prescription drug benefit gap -- the so-called Doughnut Hole -- particularly tough on their bank accounts. The article highlights the case of Joan Stroup, a 73-year old retired elementary school principal, who says she's stopped taking her prescription medication because she can't afford the $1,000 a month it costs her to cover what Medicare doesn't pay. "I don't always want to tell people I don't have the money for it," she says, "so I might wait a week or so to go to the drugstore to pick it up.".
The problem is, as people put off doctors' visits, drop their insurance plans, or cut back on elective procedures and routine testing, minor problems can mushroom into major illnesses --which means even bigger medical bills down the road. "Once you've had that heart attack and end up in the hospital, that's when the expensive stuff begins," says Dana Goldman, a health care economics researcher quoted in the article.
Photo by Big Stock Photo