Caring Currents
Could Online Insomnia Therapy Solve a Senior's Sleep Problem?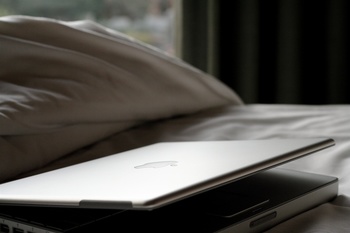 All Rights Reserved
Is it just me, or is everyone struggling to sleep well these days? Economic worries. Holiday stress. Caregiving challenges. Changes caused by aging. Pain. Lots of stuff to keep us all up at night. So I was intrigued to learn that for those of us who have difficulty snoozing soundly -- or care for someone who finds herself counting sheep -- help may be just a mouse click away.
In an attempt to wean us all off of sleeping pills and address a problem that has skyrocketed in recent years, large health insurance companies have turned to the Internet to offer online insomnia therapy, according to a recent Los Angeles Times story. Web sessions are offered by such big name health insurers as Aetna, some Blue Cross plans, Cigna, Kaiser Permanente, and WellPoint, according to the Times account.
Some 50 to 70 million Americans are plagued by some form of insomnia (having a hard time dozing off, staying asleep, waking up too soon). And for about 20 million of us poor sleep-deprived souls -- including many seniors -- insomnia affects our ability to function during the day. The disorder can make it difficult to concentrate or stay awake, cause irritability or depression, and make a person more accident prone and less productive. Chronic insomnia can also increase a person's risk for a variety of health ailments, including heart attack, stroke, and diabetes.
A self-help, online approach to thwart insomnia is a new attempt at tackling a tired, old problem. This kind of cognitive behavioral therapy has traditionally been done in face-to-face sessions with a therapist or psychologist. The web sessions, typically six or so, utilize many of the same strategies used by sleep specialists to help break bad sleep habits. One bonus: It's easy to repeat sessions to help reinforce behaviors or jog memory about ways to grab more zzzs.
The computer-based therapy can also suggest what not to do -- no stimulating beverages such as coffee or alcohol before bedtime, no stimulating technology like watching TV or surfing the 'net, right before shut-eye time. The programs can also recommend relaxation techniques, such as breathing exercises, to soothe someone to slumber.
These cyber-services are available, for a small fee, through private programs, if your health insurer doesn't cover an Internet-based trip to the Land of Nod. A google search using the words conquer insomnia will identify some options.
Since these programs are in their infancy, there isn't much research regarding their effectiveness. A small study, presented at a sleep conference this year, suggests they may have merit. But more studies are needed to see if there are any limitations to this treatment for insomnia, says Michael Twery, director of the National Center on Sleep Disorders Research, a division of the National Institutes of Health.
The concept has its detractors. Cognitive behavorial therapy can be extremely effective at combating insomnia, says Meir Kryger, director of sleep medicine at Gaylord Hospital in Wallingford, Connecticut, and chair of the National Sleep Foundation, a consumer education group. But here's his caveat: Health insurance companies shouldn't provide health care. "Many people with insomnia, particularly the elderly, have some other condition such as depression, heart disease, or arthritis, that affect sleep -- or take medications that impact sleep -- and these things can't be evaluated by a computer system," he says. "People with insomnia need to see a doctor."
Sound advice. A cynic might speculate that health insurer's are motivated to go this route to cut costs. Let's face it, talk is cheap and pills are pricey. So I'm curious to know if you or a family member have had any success with these programs. I'm sure others in search of a good night's rest would like to know as well.
Photo by Flickr user pinkbeltrage used under the Creative Commons Attribution license.