Caring Currents
College-Linked Retirement Communities Connect Generations
Last updated: Nov 11, 2008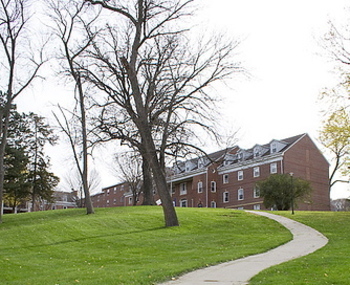 "I don't want to live here," my 87-year-old father grumbled when my sister and I took him on tours of one well-appointed retirement community after another. "It's full of old people!"
My dad's "joke" belied a genuine discomfort. In the end, he didn't move into any of the communities we thought would be a terrific alternative to living alone in a two-story condominium where he could barely get up the stairs.
The idea of sequestering himself in an age-segregated universe -- giving up his weekly barroom poker game with men half his age or younger, or chess at the downtown café where he had a good three or four decades on his opponents -- made my dad feel, well, old .
A card-carrying Mensa member who usually has six or seven online chess games going with opponents (of all ages) across the globe, he also viewed retirement communities as the land of bingo and daytime television, devoid of the intellectual stimulation he needs to keep him on his toes.
Folks like my dad are perfect candidates for college-linked retirement communities, a new alternative springing up across the country. As many as 60 universities -- from Cornell and Dartmouth to the University of California, Davis, and the University of Michigan -- have opened up retirement communities on or near campus, where residents have access to classes, football games, cultural events, and (perhaps most importantly) interaction with students and faculty, creating a truly intergenerational intellectual community. Another 50 or so are in development. Researchers who've studied these communities have found that the intergenerational aspect is a major draw.
Former faculty often move into these communities, as do alumni, for whom returning to the campuses where they launched their adult lives can have a special poignancy. But most communities are open to the general public as well.
The relationships between retirement community and university vary from informal to closely intertwined. In some communities, residents may be invited to use the library, attend concerts, and hear visiting lecturers. In others, residents also have access to university healthcare, including top-notch gerontologists, and can even join students in class.
And here's another perk: New research indicates that mental stimulation can actually ward off or slow the progress of dementia.
If this is something you think someone in your care might be interested in, try an Internet search with the  terms college retirement community and your region -- you'll be surprised by how widespread this option has become.
Here are a few places to start:
The Village at Penn State , State College, PA. Students teach exercise classes at this 80-acre continuing care retirement community beside Beaver Stadium, and residents reciprocate by mentoring students in their areas of expertise, or even teaching classes.
The Kendal at Ithaca , Ithaca, NY. Residents of this continuing care community have access to both Cornell University and Ithaca College. Cornell design students took on a redesign of the dining rooms, based on extensive conversations with residents, as a class project.
The Forest at Duke , Durham, NC. The 400 residents can enroll in classes through the Duke Institute for Learning in Retirement and join onsite "interest groups" ranging from French to tap dancing.
Search for retirement communities or assisted living facilities near you
Image by Flickr user HeatedGroundPhotography . Used w ith permission under the Creative Commons Attribution License .