Caring Currents
Nonprofit Nursing Homes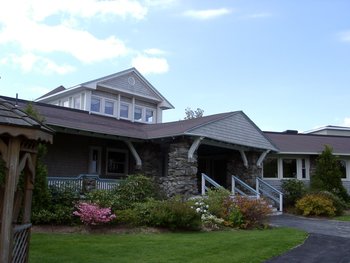 All Rights Reserved
Finding and choosing a nursing home isn't an easy thing to do. In fact, many people find it so daunting they don't know where to start. A new study published this week makes the decision process a little easier with some simple advice: When possible, choose a nonprofit, rather than a for-profit nursing home.
Researchers reviewed the quality of care at tens of thousands of nursing homes in the U.S. and Canada, and found that nonprofit homes consistently had higher and better qualified staffing and less use of restraints to confine patients. (The two measures are related, of course; if you have more caregivers, there are more people to watch over patients and less need to restrain or confine them.)
Patients at nonprofit homes also had fewer bedsores, and the facilities had fewer citations for quality violations than for-profit facilities. The study was done at McMaster University in Ontario, where researchers conducted a review and statistical analysis of 83 different quality of care studies between 1965 and 2003.
Study author Gordon Guyatt, professor of medicine at McMaster, didn't mince words in explaining why nonprofit nursing homes can provide better care. "The reason patients' quality of care is inferior in for-profit nursing homes is that administrators must spend 10 percent to 15 percent of revenues satisfying shareholders and paying taxes. For-profit providers cut corners to ensure shareholders achieve their expected return on investment."
How can this news help you find quality care?
What this means, in practice, is that in addition to other measures of quality, you'll want to check into the ownership of the nursing homes you're considering. Caring.com makes the process of finding nursing homes near you much easier with our local nursing home finder. Once you've made your list, call each home and ask questions before scheduling a visit.
Ask the representative to explain who owns the facility, and whether it's operated to make money (which usually goes to shareholders, if the company is public) or whether its overseen by a nonprofit organization. If the representative says he doesn't know, ask him to find out.
Of course, there are many other questions to ask to determine if a nursing home is right for your family. Our experts at Caring.com have some excellent advice for what to look for when choosing a nursing home.
It's also a good idea to contact your state's Long-Term Care Ombudsman office. Every state has one, and the ombudsman can answer both general questions about long-term care and specific questions about particular nursing homes. Later, once your family member's settled in the nursing home, the ombudsman can be useful if you encounter problems with the facility that you need help resolving. You can find contact information for your local ombudsman at the National Long-Term Care Ombudsman Resource Center.