Caring Currents
How Retirement Is Changing
Last updated: Apr 25, 2008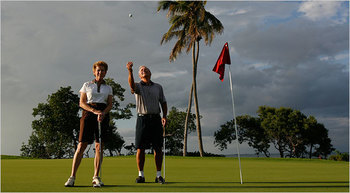 Recently The New York Times tackled "Retirement" in a special section, with a number of stories focused on the unintended emotional and financial consequences of leaving work behind.
Some highlights:
A Longer Goodbye: Many major companies, including Dow Chemical, Pitney Bowes, and IBM are coming up with innovative programs to keep employees on in some capacity after they reach traditional retirement age. If everyone 65 years or older retires, "companies could lose everyone who remembers how they handled the last economic downturn," notes one expert, who says it is in most companies' -- and employees' -- best interest to keep older workers so they can transfer knowledge to younger employees. That raisies a question: Do you have family members who would have benefited from staying on to impart their accumulated wisdom -- even if it meant delaying retirement?
Making Your Money Last As Long As You Live: Although this article includes two of the least appealing business jargon terms published in recent past -- "de-accumulation phase"  and "paycheck replacement plan"  (both referring to life post-retirement) -- it does include some helpful information about new mutual funds and annuities that provide retirees with regular "paychecks" or monthly payouts that help them budget and pay for monthly expenses out of their savings and investment accounts. If your parents has already retired, how do they handle these kind of finance issues? Are there other financial products out there that offer similar options?
She Wants a Career and He Wants Golf. Now What? This intriguing article highlights what experts say is a growing phenomenon: What happens when wives who entered the workforce later in life (usually after their kids have left the house) want to keep working after their husbands retire?  "Wives often feel, I finally got rid of the kids, I'm finally moving up in the job, and I don't want to retire," explains one expert. "There's just a mismatch between the two." If your father retired before your mother was ready to quit,  did your parents find themselves in conflict? Do you have any tips for other families who find themselves in the same situation?
Image courtesy of The New York Times