Caring Currents
Cell Phones That Won't Scare Mom
Last updated: May 09, 2008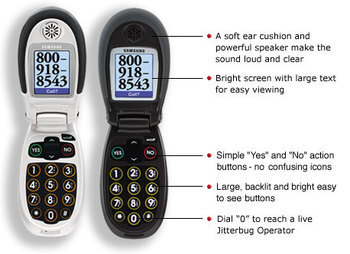 Many of us want our parents to have a cell phone to use in case of an emergency. But some older adults can get intimidated and overwhelmed by complicated cell phone calling plans and tiny phones with even tinier buttons and jam-packed with extraneous features they don't need or want, like digital cameras, MP3 players, and wireless Internet access.
Enter Jitterbug , a phone designed specifically for seniors and manufactured by Samsung. On this phone, there are no YouTube videos or Beyonce ringtones. Instead, its features include:
Large, backlit buttons
Bright screens with large text
One-touch access to an operator for 24 hour assistance
Pre-paid service plans requiring no contracts
The only problem? The target audience isn't so keen on buying a device marketed as a "senior phone." Shelly Kneupper Cupper, explains on her blog, This Eclectic Life :
"...It is exactly what I need. It's got large buttons for my pitiful arthritic fingers to punch. It has a big screen and huge readout for my pathetic blind eyes to see. It's got a padded earpiece, so my poor old ears can hear. It's even got a live operator in case my feeble mind gets confused…
"Wait! They call it a Senior Cell Phone!
"I can't be having that . That's bordering on condescending! Can't we just call it an Amish Cell Phone and leave it at that?"
What about your parents? Would your mom love this as a Mother's Day present -- or would she be offended by anything with a senior label?
Image courtesy of Jitterbug