Caring Currents
Tune in to PBS for Help and Hope on Caregiving
Last updated: Mar 26, 2008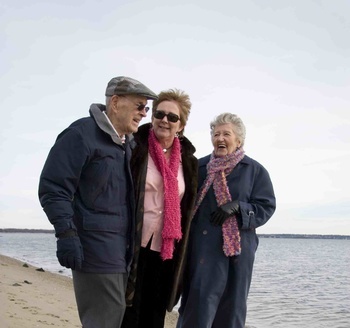 "Caring for Your Parents," a PBS documentary about doing just that, promises to give an unsugarcoated look at the challenges and tensions adult children face as caregivers.
 The first 90 minutes of the show chronicle the experiences of five families from varying cultural and economic backgrounds, training a lens on tough topics including:
According to Michael Kirk, who wrote, produced, and directed the documentary, its most poignant moments are those in which emotions run highest as parents and caregivers alike confront: the need to stop driving, loss of independence, and medical professionals with less-than-helpful bedside manners.
But viewers aren't left to tune out in despair. The show concludes with a half-hour panel discussion, "A Conversation About Caring," led by several eldercare experts who give targeted tips on how to discuss the need for more and different care with aging parents.
The show makes its television premiere on Wednesday, April 2 from 9 to 11 p.m. ET. After that, it will be available on the PBS Website. 
Photo Credit: ©WGBH/Mark Ostow, used with permission