Caring Currents
5 Ways to Help a Relative Thrive While Hospitalized
Last updated: Feb 03, 2009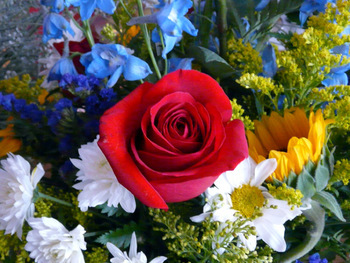 Prepare to be thrust into a series of rude awakenings the first time someone close to you is hospitalized. You hardly have time to come to grips with the overall gravity of the situation -- because so much effort is required just keeping abreast of the day-to-day business of hospital life.
Or that's how I felt when my mom was admitted. I seemed to live at the hospital after a mysterious collapse wound up as the last thing expected, metastatic cancer. Having spent little time in hospitals other than birthing my four babies, I was such a newbie I had no idea that:
There would be so many doctors involved.
There would be so many nurses, technicians, and other bustling people involved.
I'd have trouble identifying her "main doctor." (Her regular doctor didn't have privileges at the institution the ambulance delivered her to.)
Doctors' visits have no discernable rhythm.
Hospitals never sleep!
Caregiving doesn't get put on hold when a relative is hospitalized. If anything, the job takes on a new urgency.
What caregivers can do in the hospital:
1. Be there -- a lot.
The sick person is hardly in the best position to take notes and grasp details.  According to a new University of Chicago study of more than 2,800 hospitalized patients, three-fourths couldn't name a single doctor assigned to their case. And of the remaining fourth who could give a name, fewer than half gave a correct name!
All patients need an advocate at their side virtually full-time to follow therapies and prognosis and relate symptoms. But this is especially true of older adults, who often have multiple medical issues and tend to weaken more quickly under the duress of being bedridden.
What helps: Stay visible, in the room or just outside of it where you can see people coming and going. Set up a tag team. Important times: late at night and early in the morning, when physicians may make rounds. If you miss the doctor, know you can ask a nurse to page him or her or ask to be called.
2. Don't be shy.
Ask questions when you don't understand. Ask to have options repeated or procedure names spelled out. Though I'm a medical journalist by training, in the daughter role I was sometimes seized by irrational juvenile embarrassment, not to want to seem "dumb" in front of the doctor. (Ultimately, Mom mattered more than my pride. I'd ask away.)
More questions than the doctor seems to have time for? Ask to schedule a sit-down conference. If you feel stonewalled or lost, ask the hospital's patient advocate for help sorting issues.
What helps:  Dedicate a notebook for jotting questions and information. Also record the name and position of who comes in and for what reason, for later reference. (I started on the back of a paper food tray liner before upgrading to a notebook bought at the hospital gift shop.) Do your own research after you talk to docs. Learn as much as you can about the condition so you can pick up terms and better understand treatment options.
3. Be nice….but persistent.
Keep it conversational, even when you're hopping mad (or, as is often the case, bone weary and easily frustrated). Register complaints reasonably. There's a lot going on a typical floor, so if you need a blanket or bed-changing assistance, you might need to call for help more than once.
What helps: Be observant. When you don't need help, notice which staffers around  seem to be supervisory, when shifts change, who's most speedy or responsive.
4. Show you know they care.
Most staff work hard and have hearts in the right place. But you'll meet individuals who care more and who give your relative the extra touch. Show your gratitude with food gifts, a note, a mention to their supervisor. They'll be even more inclined to help down the line, in ways that might prove critical.
(My mom gave away half her flowers to her favorite two hospital nurses. She wound up with daily bonus foot rubs. One later came to her funeral.)
What helps: Let them see you go the extra mile, too. Politely offer to fetch a pillowcase yourself or refill the ice water so staff doesn't have to -- and they'll be inclined to return the favor with extras for you. It's human nature.
5. Set a positive tone.
As if keeping track of the medical stuff weren't enough, know that you also need to keep a supportive mood going, too. Bring your relative's favorite plants or reading material. Stay calm – leave sobs, family disagreements, and anger at medical staff out of the room. Hold hands, rub shoulders. Respect their desire to rest without words or ro be left alone (while you remain close by).
What helps: Deep breathing, Moral support. Occasional black humor.