Caring Currents
Dementia Caregivers Deserve Summer Vacation, Too
Last updated: Jul 04, 2008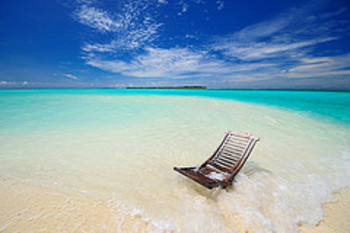 All Rights Reserved
Summer's half over, even for dementia caregivers. Will you take a vacation?
Dementia care partners tend to be especially housebound. Unfortunately going without a break is a good option only for martyrs or people looking to get sick.
Earlier this year, the journal The Gerontologist described an innovative, stress-cutting idea called "assisted vacations" -- special group trips designed for care partners and their loved one with dementia to take together. Sounds like a dream? Too bad it was only a pilot program. Meanwhile, no more excuses:
"I can't take her anywhere overnight"
People with dementia tend to not do well in new environments.
Try visiting a familiar place from your parent's past rather than a new location.
Trust your instincts; your parent may be unable to travel -- but don't let that stop you.
"I don't have backup care."
This dilemma is proof that you can't go it alone. People with dementia tend to do best with familiar faces.
Plan ahead. Enlist an elder companion now -- someone in the home a few days a week whom your parent can get used to (and who can give you day respite) so that person can fill in overnight for you down the road.
Inquire whether anyone at a day facility you may use (who knows your parent) could be a fill-in caregiver.
Consider vacation respite care. It's being marketed as a new specialty service by some geriatric care consultants, such as the "Vacation Respite for Renewal" program.
"I don't have any money."
Caregiving is a savings-sapper. But you don't have to travel far to get a break.
Fall on the mercy (and good company!) of a friend or relative.
Do a house-swap with a relative who can look after your parent while you live the relative's life for a weekend.
Failing an overnight getaway, give yourself a series of "staycations." Stay home but have another caregiver fill in while you take whole days off doing local activities (sightseeing, museums, mall meandering) you no longer have time for -- all alone or with the rest of your family.
"She gets so upset when I go."
It's sadly ironic that a person going through so many changes in her mind reacts so poorly to changes in her environment.
* Find loving care and go anyway.
Holly at the Lewy Body Dementia blog recently wrote about her Dad crying and declining in health when she and her husband went away. But to their credit, they did it. It's a bit like the child with separation anxiety; it would be impossible to stay glued to the child's side constantly. If you know she's in good hands, you endure the painful sound of the Velcro separating…and you go. Because you have to.
Image called "Book your seat!" by Flickr user muha..., used under the Creative Commons attribution license.