Caring Currents
4 Fresh-Start Steps for Out-of-Shape Caregivers
Last updated: Mar 10, 2009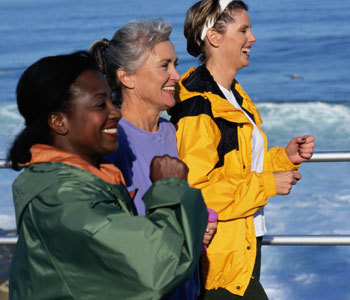 It's no secret too many family caregivers are in less-than-optimal health themselves. Sometimes finding a way out of a bad situation requires seeing it with fresh eyes.
Some ideas, in a minute. First, let me say I totally get why one's own health falls to low priority when you've taken on the added responsibility of caring for a family member:
Lack of time to exercise
Stress and bad coping mechanisms (e.g. I think I'll munch away the blues with a cereal right from the box.)
Lack of time to prepare nutritious meals
Lack of extra money to spend on fresh foods, the gym, or helping hands that would ease the stress that leads to the cereal box.
Legitimate excuses, all. But still excuses. Instead of the usual diet-and-exercise lecture, consider four new approaches to an old problem:
1. Re-think your incentives.
Nevermind fantasizing about yourself in a swimsuit this summer or how you wish you'd look in family photos. When you're a caregiver, one of the best reasons to haul yourself onto a road to better health might be one that's staring you in the face day after day: Dementia.
March's Archives of Neurology is a theme issue on neurological disorder related to metabolic diseases. The upshot: The link between dementia and disorders like diabetes and heart disease is growing stronger and "" if you're an overweight midlife caregiver "" scarier.
A sampler of the findings (each a different study):
Women with metabolic syndrome (abdominal fat, high blood pressure, low HDL cholesterol) have a much higher risk of developing cognitive impairment than those who don't have any one of those factors.
Fatter men show more declines in cognitive function all through life.
People who have higher total and LDL cholesterol levels and a history of diabetes decline more rapidly if/when they develop Alzheimer's.
I hate to be the bearer of more stress. For me, though, this growing body of evidence linking fitness and dementia has the opposite effect "" it's galvanizing.
2. Reject the word "diet."
Often the first reaction to a good health incentive is, "Okay! I'll go on a diet!" But personal and professional experience convinces me that losing weight is usually an issue of managing emotions, not managing food. One starting place I love on this topic "" and it's short enough for the busiest caregiver to get through "" is Susie Orbach's book [On Eating.] (http://www.amazon.com/Susie-Orbach-Eating/dp/0141007516/ref=sr_1_1?ie=UTF8&s=books&qid=1236613183&sr=1-1)
3. Reinvent your idea of exercise.
"Exercise" is another daunting word, especially to those of us who hate smelly gyms or are deeply uncoordinated. (Nothing like having a phys-ed teacher announce to the whole sixth grade that you are a klutz to set you -- I mean me -- up for a lifetime of sports avoidance!)
Think plain old "movement" instead. Start moving more, together with the person you're caring for, if you can "" even if this means starting really small. A tai chi class you can take together (good for balance and fall prevention, too)? Can you walk around the block "" or even around the house? Lift three-pound handweights, even if you can only lift them three times in a row at first. Rent a yoga or Pilates DVD if you can't leave home.
Do these things not to burn calories, but with the goal of finding more energy and improving your mood. Those may sound like counterintuitive benefits to sweating and doing something you dislike for those reasons -- but it works.
4. Reach out to 3 new people who can help you.
I don't need to tell you again about the benefits of respite care and asking friends for help ... blah, blah, blah. But they're unbeatable resources for lowering stress (and giving you more time to work out or cook a proper meal).
Who's your network of help? "But I don't have anybody," caregivers often say. But you do. Start small, again: Identify just 3 candidates who might help you get your arms around your stress.
Who? Try your [local area agency on aging] (https://www.caring.com/local/area-agency-on-agings) to make sure you know about all the paid and free resources available to you. Ask at your place of worship about other caregivers with whom you might be able to trade an hour or two of care a week. Maybe a neighbor or relative you haven't made a specific request of before? The local Scout troop? Make a list of candidates who can offer even the tiniest commitment of help.
They're admittedly little starting places, but the operative word is "starting." You deserve it, you really do.