Caring Currents
Avoid the Posthospitalization Communication Breakdown
Last updated: Apr 23, 2009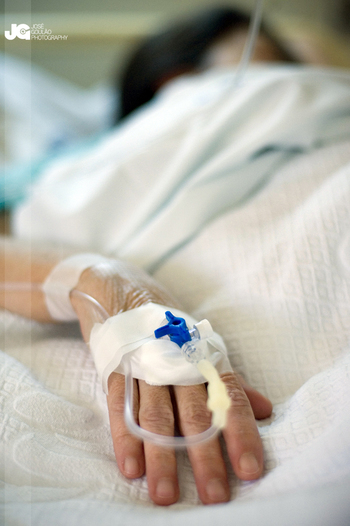 It can be disconcerting to be hospitalized without the benefit of seeing your primary doctor. That's what happened to my mom, when the ambulance my sister called took her to a hospital where her longtime family physician didn't happen to have privileges. Who knew to think of that angle in the heat of crisis?
Yet this lack of continuity is surprisingly common, and growing more so: Only about a third of patients are seen by their own doctors when hospitalized, says a new [study] (http://www.healthday.com/Article.asp?AID=626299) in this week's Journal of the American Medical Association. Just 10 years ago, about half did.
Potentially more troublesome is what happens after discharge: Hospital staff don't fully convey information about what happened there (test results, therapies run, prognosis made, advice given) to the primary physician. Or the advice given at discharge is later contradicted by the primary doctor at follow-up. Or the patient is left feeling worried and insecure by having been bandied about between different docs --- and often more confused than ever.
What happens between hospital and outpatient treatment is what's known in health-care parlance as "continuity of care." And good continuity is on the decline, says the new study, which looked at 3 million Medicare claims by people over 65 from 1996 to 2006. Post-discharge communication only happens about a fifth of the time, said one of the researchers!
Guess on whose shoulders it falls to piece together some semblance of continuity when a parent or grandparent or mate is discharged? Yours or mine, of course!
So how can you make sure care doesn't fall through the cracks? Without going into a whole primer on discharge management, a few small actions do help:
Find out the hospital(s) where your loved one's doctor has admitting privileges.
In the event you have a choice of where the person is hospitalized, this can raise your odds of having the same person continue to treat. Beware, though, that there's a trend toward having a medical center staffer as the designated coordinator of care. Still, I know my mom would have been greatly relieved to see her old guy's face.
Of course, take steps before a crisis to obtain access to the person's medical records to be able to discuss the person's records and case.
Find out who's in charge during hospitalization.
There may be an ad-hoc team of medical personnel on a case or a more centrally-established team. Either way, there's usually a team manager who can give you the bigger picture, which you can pass along to a primary doctor. Ask physicians to call and consult with one another (within the hospital or after discharge) before picking a course of action.
Both in the hospital and during discharge, ask about why things are being done the way they are until you have perfect clarity. Challenge doctors who seem to contradict previous advice (there may be a good reason, you just need to know it.)
If a case is complex and you just can't be in the hospital enough to feel comfortable about what's going on, consider hiring a geriatric care manager to fill in for you. Bonus: This person's whole focus is continuity of care.
Keep copies of all records in a central place.
The humblest folder works. What's key is keeping it all together. Bring it with you to every appointment with every healthcare worker: rehab, nurses, follow-ups, etc.
Get all the person's medications from a single source.
That puts the pharmacy on your side in spying dangerous drug interactions, a potential risk of too many medical experts not communicating well.
Cross your fingers on progress toward electronic medical records.
Okay, that tip wasn't user-friendly, but hopefully this development will go a long way toward making sure important information doesn't get overlooked, especially useful for complex cases involving multiple specialties and medications ""- as is, of course, typical with older people.