Caring Currents
Cancer Patients Tell It Like It Is
Last updated: Jul 02, 2008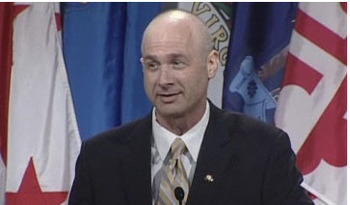 Don't soft-peddle cancer news. That's the message from cancer patients everywhere these days, it seems. Go ahead, use the "C-word" -- we can handle it.
NPR correspondent and blogger Leroy Sievers has become a hero to his fellow travelers in what he calls "Cancer World" ever since he began blogging about his fight with metastatic colon cancer almost three years ago. It gets harder to tell the truth, though, when the news is not good. On June 9th, in a post baldly titled " The Disease Has Exploded," Sievers tells his readers that his latest scans found new tumors in his brain, lungs, liver, pelvis, and more. There's not a lot more his doctors can do, yet he ends his post on a strong note: "I still have some fight left in me."
Sievers' announcement triggered a second explosion, an outpouring of support from readers battling cancer themselves. Moved to acknowledge this community, Sievers asked an assistant to create a gallery of posts and photos that puts faces to more than 350 readers battling cancer themselves. The result is incredibly uplifting, a testament to bravery and spirit.
Fighting back -- while telling the truth --- was the theme of another cancer story playing out on the national stage this month, that of Ron Davis, President of the American Medical Association (AMA), diagnosed with Stage IV pancreatic cancer at the age of 51. Bald from chemo, Davis addressed the AMA's annual meeting in a speech titled "The Circle of Life" in which he talked openly of his prognosis and of what it's like to be a doctor battling a deadly disease. "As a physician, I know the survival statistics for someone with Stage IV pancreatic cancer. But if the five-year survival is 5 percent, that's not zero.... So never take away someone's hope."
At the end of Davis's speech, he choked up, telling the audience that since his diagnosis four months ago, he's spent more time with his wife and three sons, who then joined him at the podium for a hug. The standing ovation lasted three minutes.
Dr. Len Lichtenfeld of the American Cancer Society was moved to transcribe Davis's remarks in his blog , calling Davis a " man who has decided to fight his battle with cancer vigorously, publicly, and while always moving forward with his responsibilities every day as a leader in medicine."
The AMA was deluged with so many requests for Davis's speech that they made it available as a video clip on their website.
Let's hear it for the honest and brave.
Image of Ron Davis, President of the American Medical Association and cancer patient, addressing the opening session of the AMA House of Delegates in Chicago on June 14, 2008.