Caring Currents
Cancer Patients Who Get Palliative Care Suffer Less, Study Shows
Last updated: Aug 19, 2009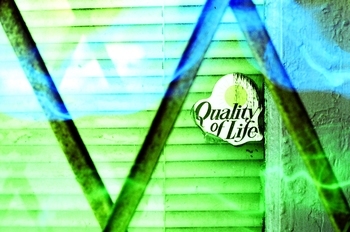 When people ask me, what do you wish you'd known when your dad was battling cancer, I always answer that I wish we'd called hospice sooner. What I mean by that is that I wish I'd known to ask for "palliative care," which is the term for care aimed at making cancer patients more comfortable, rather than "curing" the cancer.
Yesterday the American Medical Association (AMA) released a study confirming what many of us caring for someone with cancer have figured out for ourselves: Palliative care makes an enormous difference in cancer patients' quality of life. With palliative care, the study showed, advanced cancer patients had less pain, fewer side effects and other symptoms, and avoided depression, anxiety, and other mood issues.
The study, conducted at Norris Cotton Cancer Center at Dartmouth-Hitchcock Medical Center in New Hampshire and led by Marie Bakitas, followed 322 patients with advanced cancer. Half the patients received four weekly educational sessions with palliative care experts and monthly follow-up sessions; the other group received standard medical care through their oncology team. Those who received palliative care had "higher quality of life" and "lower depressed mood," than the patients receiving only oncology services.
When is it time to ask for palliative care? The answer is, honestly, whenever the cancer patient you're caring for is suffering.
Many cancer patients, like my father, find out early in their treatment that their cancer is not curable. (This often comes as news that a tumor is not operable, or that the number of treatment options available is diminishing.) At that point, it's natural to feel sadness and despair; it's hard to hear the doctor say that your loved one will almost certainly never be cancer free.
This is the juncture at which to ask the doctor about the availability of palliative care, in addition to whatever treatment your loved one with cancer is receiving. (In all honesty, palliative care should be offered to you, but all too often cancer patients and their families hear nary a word about such services.)
I know, I know. Palliative care is often accessed through hospice, and you don't want to call hospice until you absolutely have to; it feels like an admission of defeat. We associate hospice with dying -- and we're not ready for our loved one with cancer to die.
But palliative care doesn't mean that death is imminent, nor does it mean that you're "giving up" in your fight against cancer. It just means your focus is on helping your loved one have as much time as possible, and have the best possible quality of life during that time remaining. And what I know now is that palliative care experts -- sometimes accessed as hospice care -- are the experts you want on your side.
The takeaway? Don't see palliative care and cancer treatment as an either/or choice. The patients in this study continued to receive radiation and chemotherapy, as appropriate, to shrink or control their tumors. They got palliative care in addition to these services, and as a result had much better quality of life during their time remaining. Wouldn't you want the same for your loved one?