Caring Currents
Cancer News We Can Use
Last updated: May 28, 2008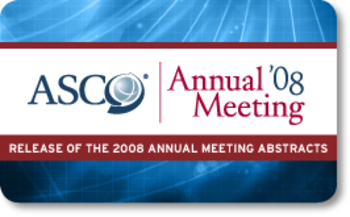 Every year in late May there's a flood of new cancer news as research results are announced at the annual meeting of the American Society of Clinical Oncology (ASCO). This year, ASCO took the unusual step of releasing abstracts of most studies ahead of time, holding back only late entries and those anticipated to contain the most headline-making news. So we don't have all the studies yet, but already there have been a number of announcements that cancer patients and their families will want to know about:
Vitamin D and cancer: It not only seems that Vitamin D deficiency is associated with the risk of developing breast cancer (which I reported about last month ), but low levels of this key vitamin can also predict whose breast cancer will metastasize, or spread. A study from the University of Toronto showed that five years after diagnosis, 85 percent of women with adequate vitamin D levels were cancer-free, compared with just 69 percent of those whose blood, when tested, was D-deficient. Dr. Len of the American Cancer Society had some valuable comments on this topic.
Pemetrexed (Alimta) delays progression of non-small cell lung cancer by 50 percent: A study found that taking pemetrexed (Alimta) after completing platinum-based "induction" chemotherapy increases by 50 percent the time it takes for advanced non-small cell lung cancer (NSCLC) to progress. Until now, maintenance chemotherapy hasn't been part of the standard of care; pemetrexed is currently approved by the FDA only for treating NSCLC that has progressed despite previous chemotherapy.
S ome Stage II colorectal cancers may be more dangerous than Stage III cancers: An analysis of data from 36,000 patients at the Mayo Clinic in Arizona shows that how far a colon or rectal cancer penetrates through the wall of the bowel may be more important in determining survival risk than the current staging system, which relies on positive lymph nodes. Thanks to the Colorectal Cancer Coalition blog for calling attention to this important news.
The number of mastectomies performed at Mayo Clinic Rochester increased 13 percent in three years, from 30 to 43 percent among women with early-stage breast cancer. Perhaps more importantly, women who received breast magnetic resonance imaging (MRI) before surgery were more likely to undergo mastectomy than those who did not. Having an MRI prior to surgery may find cancer in more than one part of the breast, which appears to be leading more women and their doctors to choose mastectomy more often than lumpectomy.
Stay tuned: More will be revealed at the end of the week. And please alert us if you hear of any more cancer news we can share.
Image courtesy of ASCO used with permission.