Caring Currents
Five Signs It May be Time to Break Up With Your Doctor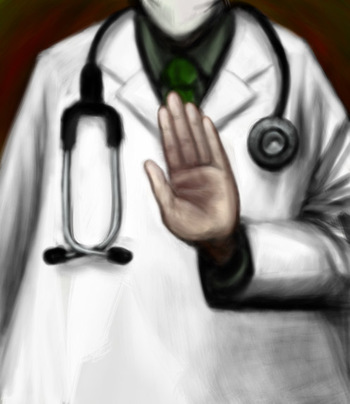 All Rights Reserved
Recently an interesting discussion has been taking place at Caring.com. The subject? What to do when the doctor isn't listening to you or the person you're caring for, not carrying out your wishes when it comes to treatment and medication choices, or recommending drugs or treatments that seem inappropriate for much older patients. Here are a few examples.
"¢ LindaSD says her mom's doctor tries to make her feel guilty when she asks to remove a medication from her mom's regimen or refuses a procedure. Her mom, who is 90, is in late-stage Alzheimer's, so she decided not to give Aricept and to refuse a colonoscopy, but had to fight those battles with the doctor who disagreed.
"¢ Grannylove2 feels it's important to honor her mom's decision not to take Aricept for her advancing Alzheimer's, and told a story of her mom being admitted to the ER for a cracked ankle, then falling off the bed while having X-rays and shattering her heel and arm.
"¢ Anonymous says it's important to find a doctor with geriatric experience, and you may need to change doctors if the relationship isn't working. If you don't know any doctors in your area with geriatric experience, you might try asking someone at a local senior center or assisted living facility; they usually have experience working with local doctors with expertise in aging.
"¢ Oldylocks reminds everyone to get an irrevocable POA for medical decisions and make sure you or someone else attends all medical appointments to advocate for the elderly patient.
I've written a lot about medication mistakes and how deadly they can be. I've also offered five "must-do" rules for preventing medication mistakes.
But sometimes the problem doesn't lie within your control; what's wrong is that the doctor isn't listening to you or not taking your loved one's age or situation into account when making medication and treatment decisions. In many cases, it's like a bad relationship; communication has broken down and you and your family member aren't getting what you need.
Here are five signs it may be time to "break up" with your doctor:
You feel the doctor blames, ignores, or criticizes you or the person in your care
The doctor doesn't respond to your feedback, or becomes defensive or unpleasant
It seems the doctor isn't taking your family member's pain or other symptoms seriously enough
You find out about treatments that can help that the doctor hasn't told you about
The doctor doesn't explain treatment options clearly, resulting in mistakes
In this case, your best bet is to change doctors, and find one you can work with to provide the best care. Doctors often say that if a patient is going to change doctors, they'd appreciate hearing it directly rather than suddenly receiving a "sneak" request for medical records to be sent to another doctor. In general, I think they're right; honesty is the best policy. But if you've had a truly unpleasant exchange with your doctor, I believe it's your prerogative to find a new doctor and ask the staff to fax over the request for records. You're not obligated to engage in another confrontation.
Either way, you'll breathe a sigh of relief once you're dealing with a doctor who listens respectfully, answers your questions, accommodates your requests, takes your family member's symptoms seriously, and works with you to develop a treatment plan you can all feel good about.