Caring Currents
"Boomerang Seniors" -- More Aging Parents Are Moving in With Their Kids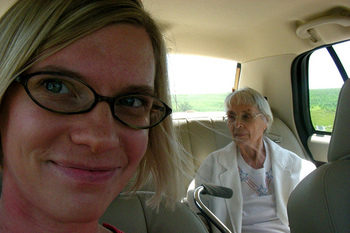 All Rights Reserved
A few weeks ago, my children invited my mother to move in with us.
We were on our way back from a family weekend in Yosemite together, and they'd laughed themselves silly running in and out of her adjoining hotel room, staying up late reading stories in her king-sized bed, and just generally enjoying every minute of her company.
"When you get old, Grandma," my seven-year-old daughter promised my 80-year-old mother, "you can come live with us." The car ride sped by  as we dreamed up accommodations for her -- we'd convert the treehouse into an enchanted aerie, my twins decided, with a generator-powered elevator for when she got too fragile to climb the rope ladder, and a pulley from our kitchen window, to which we'd attach a picnic basket to send back provisions when she didn't feel like coming down for breakfast.
Later, my husband and I found ourselves talking it over more seriously. Could we pull it off, if the day came when my mother really needed our round-the-clock help? My kids adore my mother -- we all do -- and if there's one thing she's made clear, it's that she doesn't want to end her days in any kind of institution. Adapting our lives to include her daily presence wouldn't be easy, absent the manufacture of a real enchanted treehouse, but we decided we could do it, and the next time we saw her, we told her so.
For now, she's doing fine, and the offer is on hold. But if she does wind up taking us up on it, it turns out she'll be part of a fairly seismic demographic shift. Remember the "boomerang generation" -- the less-than-flattering term coined to describe the hordes of young adults who were moving back in with mom and dad when times got tough and they couldn't hold on to jobs or housing? Well, new research indicates that we may be headed for a kind of reverse boomerang -- a flood of seniors moving into the homes of the younger generation as a perfect storm of conditions prevents them from making the move to retirement communities when their need for care increases.
The cost of retirement community living is going up just as the two sources of cash many elders depend on to fund a move -- retirement portfolios and their homes -- are plummeting in value.
In areas of the country where the downturn in the housing market is most pronounced, some seniors literally can't sell their homes, making a move to a retirement community entirely out of reach, and depressing the senior housing market as well. In Tampa, Florida, for example, 12 percent of available senior housing units are unoccupied, compared to 4 percent just a year ago.
All this comes on top of a new report showing a 62 percent surge in the number of elderly parents moving in with their children since the year 2000, to a total of 3.6 million last year.
How the current economic and housing situation will impact the numbers remains to be seen, but odds are good we're heading into an even steeper increase in the number of "reverse boomerangers," unless the economy and housing market undergo a dramatic shift.
Moving a parent or other aging relative into your home can be a great way to share the precious final years, allow grandchildren develop a closer bond, and find a closeness that visits -- no matter how frequent or well-spent -- can't quite provide. But the challenges of moving an elder in are as intense as the rewards.
Forty percent of caregivers who work full time say they regularly miss work to care for a live-in parent, and 80 percent of those who care for a live-in parent report emotional strain.
What to do? There's no silver bullet but, as with other aspects of senior housing, new options keep turning up to meet rising demand.
If you're thinking about moving a relative in with you, or have already done so, here are some ideas that may help you avoid the kind of burnout and strain that is all too common among round-the-clock caregivers:
Learn about universal design, a set of architectural and design principles that were developed to accommodate wounded veterans and the disabled and are now increasingly being repurposed for older Americans. Depending on your budget and your relative's need, consider modifications ranging from grab bars in the bathroom to renovating the kitchen for wheelchair access. Simple safety steps like putting non-stick mats beneath throw rugs and making sure hallways are adequately lit don't cost much but can make a big difference.
Join the "granny flat revival." Cities and states across the country are revising laws and zoning ordinances that had previously put strict limits on back yard or attached dwellings, now making it easier to keep aging relatives close, but not too close. One innovative option is the ECHO (elder cottage housing opportunity) -- a small, prefab backyard dwelling designed specifically as an inexpensive housing alternative for seniors, pioneered in Australia and now available in the U.S.
Don't go it alone. Being "on-call" 24/7 -- on top of your other work and family responsibilities -- is a recipe for burnout, especially when you consider the fact that your aging relative's needs are likely only to increase over time. Rather than succumbing early to Superwoman Syndrome, dodge the Kryptonite by looking into adult daycare or hiring a part-time in-home caregiver to provide some relief. Check out Caring's local databases to find options for both in your area.
Image by Flickr user eeicenbice used under the Creative Commons attribution license.