Caring Currents
Why Blogging May Be Good For an Elder's Health
Last updated: Dec 18, 2008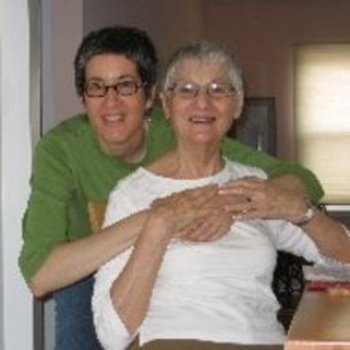 Image courtesy of Gail Persily.
Need convincing about the benefits of seniors sharing their thoughts in the blogosphere? Look no further than the lovely Claire's Kvetches, an often funny, frequently insightful blog by 84-year-old Chicago resident Claire Persily, who's having a tough time adjusting to life in a retirement community, loves that Barack Obama is our next president, recently underwent a hip replacement -- her first surgery in her entire life -- and, gosh darn it, she wants to tell us about all of it.
Claire's a pretty techno-savvy senior. She'd been instant messaging with her daughter Gail, who lives in San Francisco, for several years before they recently cooked up this blog project together. She describes her daughter, a librarian with the University of California at San Francisco, as her out-of-state tech support. The two have a comfortable conversation going on, blogging back and forth in cyberspace.
Claire chimes in with tales about walkers gone astray, the problems with old people's hair, and reminds readers to call their mothers in a poignant post in which she describes hearing her daughter's voice as "an endless gift." The love this mother and daughter have for each other is palpable in their easy blog banter. Check out Gail's groovy new blouse. Read Claire's reflections on the Great Depression. Chuckle at the black humor in a blog post "Mum Released from Rehab" (no, not that kind). These two know how to have fun.
Why blog in your old age? Claire and Gail expound on their adventures in blogland and offer six sound reasons why others might want to follow suit.
Blogging brings the world to your parent. Gail offers a window on a world that is narrowing for her mother, who can't get out as much as she once could because of mobility issues. Now, she hears about favorite haunts she's visited in the past via blog posts. When Gail describes her delight in finding the perfect tomato at a farmers' market, Claire can conjure up memories of strolling among the fruit and vegetable stands with her daughter. "The blog is a way for me to keep in touch with the outside world," says Claire.
Writing can work around impairments. For Claire, who has great difficulty hearing and who's voice tires easily, the written word is a wonderful way to communicate.
Posting gives a person a public platform. After Claire and her husband Bernie moved to a retirement community, she says her old friends stopped calling. "It's like you died; they find it too distressing," she explains. Blogging, Claire says, has helped her fight to show the world she's still alive and kicking. "It's important for me to have a voice, it's a way to get things out that are on my mind."
Cyberspace gives seniors a space to discuss subjects that may be hard to talk about. Gail speculates that sometimes Claire's blog is a way she can explore a topic she doesn't want to burden her daughter with too much. Take, for instance, the blog posts she wrote about her apprehension around pending hip surgery. Or a piece she's about to post on what it felt like to pack up all her possessions from a home in Evanston, where she'd lived for years, to move to a smaller space in Chicago.
Blogging boosts self-esteem. Claire feels a sense of accomplishment when she's written a post she's proud of, like Call Your Mother. Gail turns to the blog to try to help cheer her mom up, such as after setbacks following hip surgery. She also shares her mom's musings with family and friends who comment or call about what they've read. "She likes to share her thoughts and hear back from people," Gail says.
Posting keeps loved ones connected. Both mother and daughter say that even without blogging they already have strong bonds. For this caregiver and her parent, the healing power of the written word (courtesy of cyberspace) has simply proved an added blessing for an already close pair.
Doesn't that sound like incentive enough to invite a parent or other loved one to join you in the blogosphere? To get started, check out the popular blogging tools Blogger or WordPress, or google other options using the search terms blog platforms.
With the holidays just around the corner, here's a chance to give a gift that's free -- and priceless. Happy hunting and pecking.
Photo of Claire and Gail Persily by Gail Persily.