Caring Currents
For Presidential Candidates or the Rest of Us, Caring for a Sick Senior Is a Juggling Act
Last updated: Oct 27, 2008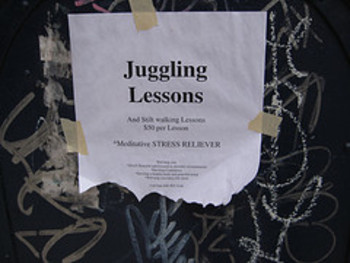 Barack Obama leaves the campaign trail to visit his sick grandmother and the reactions range from compassion to calling it a foolish decision at this stage of the presidential race.
You don't have to be running for president to experience the emotional tension of juggling work, kids and the daily grind, with spending time with a sick elder. Anyone with a busy life and frail family members knows the pushes and pulls of wanting to be there for your relatives.
This juggling act is especially tough when your senior lives far from you. Visting an elder pretty much means putting your life on hold, be it campaigning, cramming food into lunch boxes, or collaborating with co-workers.
And while attention is on Barack Obama right now, these family-life-work balancing challenges are definitely nonpartisan. I'm sure John McCain has had his moments during this frenetic campaign, with seven kids and an elderly mom.
For home life juggling, I say follow your heart.  
I try to follow a simple rule: Don't put off an opportunity, event, or experience that  (a) tugs at the heart and that (b) may never come around again. If spending time with a senior is important to you, put the other stuff aside -- as best you can. I know practical matters like money and childcare can make this tough.
If you're trying to be Superhuman, well, the grocery shopping, parent-teacher meeting, staff meeting, and lawn mowing, can wait. You can always get back to that.
Helpful hint: Short visits can be deeply meaningful.
For workplace juggling, it helps to know your rights.
You may be eligible for the Family and Medical Leave Act, which allows for up to 12 weeks of unpaid leave to care for a sick family member, with no punitive consequences. (A few states, like California, offer paid family leave.)
If your elder relative has died, always ask about bereavement leave. This is optional for employers, but many do provide some paid leave when a family member passes away. It's certainly worth asking.
Many employers will allow you to use sick, vacation, or unpaid leave to care for a sick family member. Again, it never hurts to ask.
Tara Parker-Hope, the New York Times health blogger, wrote about this very topic in a recent "Risk of Regret" post, also inspired by Obama's visit.  
And by the way: If you're curious about what the two presidential candidates have to say about family-work challenges, well, they both weighed in recently at a discussion hosted by the nonprofit Families and Work Institute. For a good wrap-up of this policy chat, check out a recent post by the (appropriately-named) Wall Street Journal blog, the Juggle.
Photo by Flickr user Logan Antill under a Creative Commons attribution license.