Caring Currents
Note to People With Arthritis and Diabetes: Move It or Lose It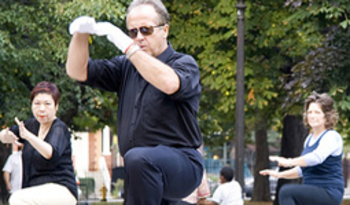 All Rights Reserved
Keep moving! That's the mantra people with diabetes and arthritis hear ad nauseum from their healthcare team. And it makes sense: Studies show that exercise plays a key role in managing both conditions. Lower blood sugar and lower risk of complications for people with diabetes. Less joint pain and more mobility for those with arthritis. Obviously, obstacles to staying fit can hinder folks with these illnesses. Stiffness. Obesity. Pain. Lack of interest. High blood pressure. Difficulty finding something fun or safe. To name just a few.
But what if your parents are afflicted with both conditions?
Turns out, there are a lot of people in that predicament. Folks diagnosed with diabetes are nearly twice as likely to have arthritis, and the inactivity caused by arthritis gets in the way of successfully managing both diseases, according to a study just out from the Centers for Disease Control and Prevention . Bummer.
The study is a big deal because it's one of the first large-scale investigations of its kind to delve into the relationship between the two disorders, physical activity, and health outcomes.
So how, then, to find the right fit and incorporate essential activity into your parents' every day life? And what can they do that won't aggravate their arthritis?
Think activities that don't stress joints. Swimming. Walking. Aqua Exercises. Stretching. Yoga. Golf. Tai Chi.To find out about physical activity programs suitable for people with arthritis in your parents area, visit the Arthritis Foundation And while you're at the organization's site, take a peek at their home page and order your free copy of their arthritis and diabetes brochure, chock full of info about the relationship between arthritis and diabetes.
Here's a tidbit that might seem counterintuitive gleaned from reports on the CDC research. Some people with arthritis don't exercise because it hurts them. Fair enough. But what if they knew this: Gentle exercise will actually reduce their pain and prevent the disease from progressing. The whole "no pain, no gain" ethos.
So what safe, enjoyable activities put a spring in your parents step and help them manage these diseases?
Just curious: Do line dancing or lawn bowling make the list?