Caring Currents
Close Ties to a Caregiver May Slow Dementia Progress
Last updated: Jul 16, 2009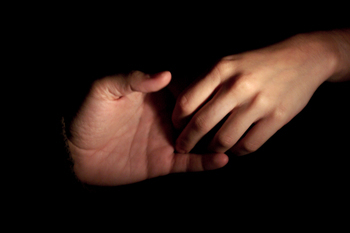 Here's news that may console you on those inevitable "bad days" when you feel a bit trapped by the demands of caring for someone with Alzheimer's disease or another form of dementia: A close relationship to a caregiver can slow the progress of Alzheimer's, researchers say.
In the September issue of [The Journals of Gerontology,] (http://psychsocgerontology.oxfordjournals.org/cgi/content/abstract/gbp052) researchers at Utah State University, with colleagues at Duke, Johns Hopkins, and Boston University, report that the quality of the caregiver-recipient relationship can influence the course of Alzheimer's: Higher levels of closeness were associated with slower cognitive decline. For this long-term study, researchers followed 167 pairs for an average of 20 months. The effect was greatest among spousal caregivers with close relationships, but held among all positive caregiver-recipient pairs.
Next their research will try to tease out what specific kinds of interactions and activities seem most helpful. But for now, it's reinforcing data that the time and effort caregivers invest matters. Having someone you trust and love to rely on makes life that much less taxing for anyone, but particularly someone already challenged with cognitive difficulties, like Alzheimer's. It makes sense that spousal caregivers provide the highest benefit; if the marriage is good (and, as in most cases with Alzheimer's, long), it stands to reason that there's a built-up storehouse of emotional closeness. This study says adult children and other relatives can fill this role, too.
Interestingly, this is a benefit that many caregivers may not be aware of. After all, having a close relationship with the person who has Alzheimer's doesn't make the disease go away or get better; it merely slows the rate of decline. Slower-than-otherwise decline can seem invisible, even if you feel good about providing basic care and a safe haven to someone you love.
Rest assured, though, that your presence and caring is likely making things much better for the person's quality of life than it would be otherwise. That's huge. That's something to feel great about.