Caring Currents
Test Yourself: What You Don't Know About Alzheimer's Can Hurt You (or Your Loved One)
Last updated: May 30, 2008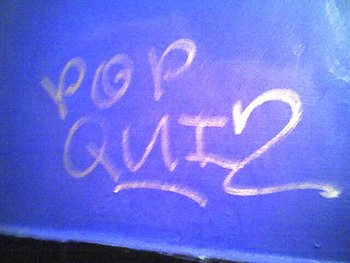 POP QUIZ:
Can prompt treatment of Alzheimer's prevent symptoms from worsening?
What's the life expectancy of someone with Alzheimer's?
Do quick mental status tests confirm a diagnosis of Alzheimer's?
Is talking about wandering with a loved one who does it an effective deterrent?
Misconceptions about these aspects of Alzheimer's disease are widespread among the public, caregivers, and patients themselves, according to Australian psychologist Karen Sullivan of Queensland University of Technology, who studies community awareness. Her research appears in an upcoming issue of the International Journal of Geriatric Psychiatry. Zeroing in on what people don't know, she says, helps frame the most useful education programs.
I asked her what the most surprising find was for her, and it turns out it's good news: Asked about how to respond to declining self-care abilities, "Most people thought it was important to try to maintain the patient's independence," she says, "rather than letting the person try and fail, or taking over completely, or seeking supported accommodation [right away]."
That reveals a promising change in attitude. The real test for caregivers is learning how to make it happen. In caring for someone with Alzheimer's, how rough or easy has climbing the learning curve been for you?
QUIZ ANSWERS:
Image by Flickr user bdunnette, used through the Creative Commons attribution license.