Caring Currents
Give an Alzheimer's Caregiver the Gift of Being Pesky
Last updated: Nov 28, 2008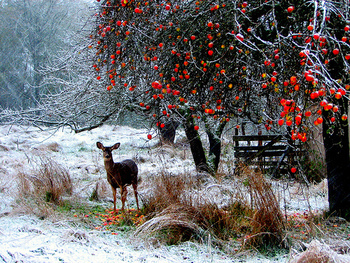 It was exactly two Thanksgivings ago that I finally brought myself to say to my mom, "I think you need to tell Dad's doctor about this." "This" was Dad's increasing episodes of short-loop anecdotes, repeated questions, and confusion. He'd just told me for the dozenth time about the deer he'd seen in my driveway that morning, his astonishment and delight just as fresh with each retelling as it had been five or ten minutes before.
Countless families gathering for turkey and football are realizing that a parent or other relative has something wrong with their memory and cognition -- or that the goofs can no longer be denied. Last holiday season, the Alzheimer's Association had a 31 percent increase in calls to its toll-free number (800-272-3900).
Even after we all finally began talking about the "problem," I struggled with how pesky I should be in following up about it. Dad's starting on the drug Aricept after his next regular checkup seemed positive, and a relief. But I wish that next I'd been more active hooking my mother up with Alzheimer's support services and counseling. Only later did I realize how overwhelmed she must have felt.
That nagging thought hit home as I read about a new, three-country study in the November American Journal of Geriatric Psychiatry. Intensive and ongoing counseling and support significantly reduced depression for caregivers -- even when the person they looked after was taking an Alzheimer's medication. Medication can be a game-changer. But too many people, like my mom, believe it's all the help they need or deserve, or even think it's all the help that exists. Meanwhile depression increased in those who'd had only standard counseling and attended no support groups.
So here's a holiday mission:
If you're a primary caregiver, I hope studies like this will nudge you to explore all the kinds of help available.
If you're more on the outer rings of the care circle, I hope you'll find the courage to -- tactfully and helpfully, but persistently -- research those help options and help the primary caregiver gain access them.
"There is an air of witchcraft and superstition about Alzheimer's, as there used to be about cancer,"  bestselling fantasy writer Terry Pratchett, who has early-onset Alzheimer's, noted this week.
Don't let assumptions, dread -- or fear of being too pesky -- stop you from helping the helpers.
Image by Flickr user Jan Tik, used under the Creative Commons attribution license.