Caring Currents
A New, Cool, and Easy Way to Support the Fight Against Alzheimer's
Last updated: Jun 16, 2008
Thrive on multi-tasking? In about one minute, you can: (a) simultaneously make a financial contribution to the Alzheimer's Association, (b) flag your support for the Alzheimer's cause on your website or blog, (c) and honor a specific parent, grandparent, or other loved one.
Did I mention it's easy and won't cost you a cent?
Caring.com has partnered with the Alzheimer's Association to launch the Caring-Alzheimer's Association ribbon campaign. Caring.com is donating $10 to the association for each purple ribbon posted on a site or blog, with a $10,000 total goal.
You can pick one of two messages for your ribbon and personalize it to honor a specific person. (Maybe Dad or Grandpa, for Father's Day this Sunday?) Visit the above link or the Alzheimer's Association's advocacy website, www.actionalz.com to get started.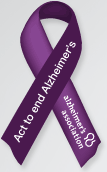 In honor of Joan Wright