Caring Currents
Baby Love: Therapy for Alzheimer's Sufferers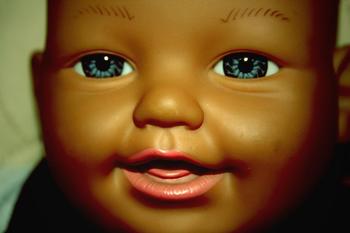 All Rights Reserved
Caregivers rightly have an aversion to treating older adults like children, even when the effects of dementia render them child-like. But here's a wonderful exception that Alzheimer's patients enjoy: Try giving a woman in the later stages of dementia a baby doll.
Surprisingly, an "Alzheimer's baby" helps someone with dementia feel like a functional adult (not a patronized child). And that brings feelings of satisfaction, pleasure, calm, and accomplishment. Cuddling a doll soothes and entertains, reducing aggression. Pretty good, as dementia activities go.
I'll never forget bringing my daughter Page, then about 15 months old, to her older sister's Brownie troop outing at a local nursing home. Page was in a huge baby phase "" she gravitated toward babies, whether real, toy, or pictured in board books. So of course she quickly noticed the elderly resident sitting in a corner with a baby doll in her arms. Page made a beeline.
I hesitated, wondering what might ensue. (Confusion on Page's part as to why a grown-up had a doll? A tussle over it?) But the woman smiled and tenderly showed off her "baby" to Page. She even let her hold it. (Which my 15-month-old did "" tenderly!). The two of them communed a common wavelength for almost 20 minutes while the Brownies sang songs.
"Dolls can create miracles," says architectural gerontologist Mark Warner, founder of Ageless Design and The Alzheimer's Store. "They allow people who are no longer able to communicate to once again say that they're hungry, need to go to the bathroom, are uncomfortable, often using the doll as their tool: 'My baby is cold.' Also a parent's need to nurture and care for another reappears, at a time when it seems they're the ones needing all the care."
(Pets and stuffed animals can have similar effects, but for obvious reasons, babies work magic with women.)
The Alzheimer's Store, which sells anything a family dealing with dementia might need, all carefully culled by Warner, has a [survey] (http://survey.constantcontact.com/survey/a07e2l13zpifzy7yf86/a01bcfzzwo7pl/questions) up to help pick which baby dolls to stock. Vote for your three favorites and get 10 percent off your next order.
I voted for Sunny and Kelly, the dark-haired thumbsuckers "" though I'm most fond of bald baby dolls (not among the choices). From personal experience as the mom of three girls, they're easier to wash. Baby-doll hair tends to stick up in funny ways after awhile, though maybe only when little girls are dragging them around. Experienced "mommies" probably take better care of their Alzheimer's babies. I suppose I'm also partial to baldies because three of my four babies were born that way (the other was, you guessed it, a dark-haired thumbsucker!).
I wonder whether the Alzheimer's patients click best with baby dolls who look most like their own? Should this be a consideration when you pick one?