Caring Currents
Aging Parents and Dental Care: A Life-and-Death Issue
Last updated: Mar 08, 2008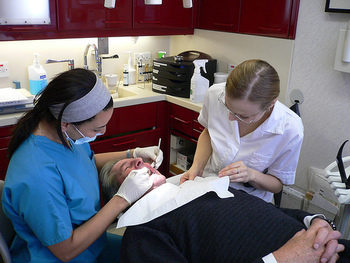 Quick: When was the last time your elderly loved one saw a dentist? A recent tragedy in California is a wake-up call to anyone caring for elderly parents, partners, or friends. Remember their teeth. And don't assume someone else is doing this--even when your parents are in a nursing home.
 A 76-year resident of a Santa Rosa, California, nursing home died about a month ago from an oral abscess that went untreated. Dentists told her family afterward that the condition was treatable, and the woman's death preventable. If only she'd seen a dentist. The woman's family assumed she was getting routine dental care as a recipient of Medi-Cal, the California version of Medicaid, the federal health care program for low-income and disabled people. They were wrong.
It turns out Medi-Cal doesn't cover regular dental care for people living in nursing homes. Under the terms of Medicaid, states have the option of providing dental care to adults. Right now, about half do, and half don't. To find out if your parents are getting dental care under Medicaid check with their case manager or local county health department, which (almost always) oversees the program.
Even if your parents aren't on Medicaid, this is a heartfelt reminder to check on their dental care. Many health plans, including Medicare, don't cover dental care. This tragic news makes me realize I'm not up on my dad's dental care. What about you and your parents?
Image by Herry Lawford used under the Creative Commons attribution license.