Caring Currents
Aging Artfully - Part II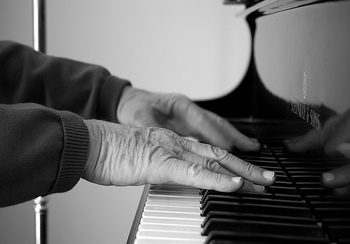 All Rights Reserved
We don't usually talk about " aging " and "creativity" in the same breath -- but research shows a powerful link between creativity and positive health outcomes for older people.
One of the leading pioneers of this research is Dr. Eugene Cohen, director of the Center on Aging, Health and Humanities at George Washington University in Kensington, MD. Dr. Cohen was the principal investigator for the Creativity and Aging Study, which examined how participation in the arts affects the physical and mental health of seniors.
The study compared the ongoing health status of two groups of seniors: One group participated in an intensive community arts programs (including chorale singing, writing, drawing, and jewelry making ) run by professional artists; the other group did not.
Researchers found that the seniors in the arts program were in better overall health and reported significantly less depression and loneliness than those in the control group. According to Dr. Cohen, creative pursuits give seniors a sense of control and foster social engagement, conditions essential to healthy aging. The seniors who participated in the arts programs felt greater control as they saw their skills improve and their lives develop new focus and inspiration. Social engagement was also an element, as the seniors worked together and supported each other's efforts.
If you care for a senior with time on her hands, you may want to suggest she take up some sort of creative pursuit -- whether it's quilting, taking a drawing class, learning to play the piano, or launching a family history project.
In his book, The Mature Mind: The Positive Power of the Aging Brain , Cohen offers these tips for helping seniors incorporate more creativity in their lives:
* Try to find activities that involve repeated interaction over a period of time, so the senior will develop social connections and a sense of community.
* Encourage seniors to seek a mix of energetic and nonenergetic activities, and solitary and social ones, so their days will have a sustainable rhythm.
* Include activities that challenge mind and body.
If you're caring for a senior, we'd like to hear about his or her creative pursuits.
Image by Flickr user Brendan 29 used under the Creative Commons attribution licence.