Caring Currents
Adaptive Clothing for Seniors
Last updated: Sep 08, 2008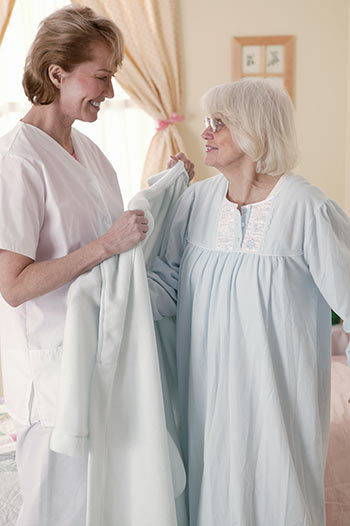 My friend Jessie prided herself on living as independently as she possibly could as her body weakened in a kind of variety pack of aging. Of all her debilitating ailments (broken hip, weakening heart and kidneys), one of the hardest things for her to deal with was her arthritis. Her hands and fingers were stiff and painful.
Not quite a fashion queen but a woman who took pleasure in clothes, Jessie was particularly bugged by the difficulty she had dressing. She couldn't do small buttons; same with bitsy zippers. Tying laces; forget about it. I remember watching her struggle with her favorite winter jacket. I offered to help, and she snorted (as she usually did): "No, I can do it myself." The truth was, she couldn't.
This isn't an unusal problem for older people, and it's one that really takes a hit on self-esteem. Arthritis isn't the only condition affecting the ability to dress. Many people with Alzheimer's or other forms of dementia are irritated by clothing and can't follow the logic of dressing. ("Inappropriate undressing" is an issue for some, who pull their clothes off to bring relief.) Paralysis and mobility problems bring dressing challenges.
Enter the universe of "adaptive clothing for seniors." I like sharing helpful tidbits I've learned along the way as I write about aging. Plain-wrapper adult diapers was one; Alzheimer's dentists another. I call them "heart gems." I could also call them, "Jeeze, who knew?"  Adaptive clothing is more than one heart gem, it's a store-filled collection.
Arthritis clothes: Large-zipper toggles; easy closures. Easy to put on and take off independently.
Alzheimer's clothes: Loose fitting; soft fabrics; wide openings; super easy to dress someone with minimal hassle. Special clothes for "inappropriate undressers," designed to stay on even when tugged and pulled.
Elastic-waisted, tie-on, or fold-on pants, shorts, skirts, you name it. No need to fumble with closures.
Slip-on; fold-on shoes, even dress shoes; no laces or buckles; stable and comfortable.
Wheelchair clothes; Easy to put on/take off without needing to stand and with minimal moving around.
They're easy to find online by searching on terms like: senior adaptive clothing, clothing for seniors, adaptive clothing, Alzheimer's clothing, or arthritis clothing. You'll find numerous on-line stores. Many include helpful information to make shopping easier. Medical supply stores also sell adaptive clothing, online or offline. Call first to see what they have in stock.
This isn't a world of drab, baggy clothing!  (Though sure, there's some of this.) I was pleased to see an emphasis on fashion, color, and design – as well as on comfort. I can practically feel the de-stressing; the self-esteem rebuilding.