Caring Currents
12 Family Movies to Watch This Holiday Season With Someone Who Has Dementia
Last updated: Nov 17, 2009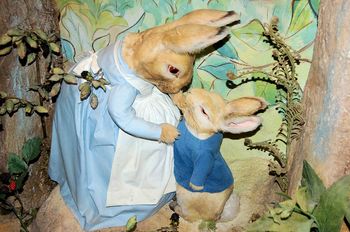 All Rights Reserved
Looking for a holiday activity someone with dementia can enjoy with the whole family, including kids, during the upcoming holidays? An intergenerational movie is a stress-free way to share time and togetherness.
Here are 12 family movies to consider, organized into three categories: newish movies, old movies, and something different.
New(ish) Movies
Wholesome, cute, and clever, it starts as a classic Disney princess cartoon, then the drawn characters turn into real actors, including Amy Adams and Patrick Dempsey (who look and sound exactly like their cartoon counterparts). It's especially well-suited for grandmas and granddaughters.
A 78-year-old homebody flies away with an 8-year-old; the perfect plot for an intergenerational showing.
Renee Zellweger stars as children's author Beatrix Potter, and Peter Rabbit (in cartoon form) makes surprise appearances. A happy story (set in England's lush Lake District) that might inspire pulling out the tales of Tom Kitten, Squirrel Nutkin, Jemima Puddleduck, et. al. to read aloud later.
The Water Horse: Legend of the Deep
A 2007 British family film about a Scottish boy who finds an odd egg at the shore of a nearby loch will offend no one and pleasantly surprise everyone. A plus: It's set in WWII, evocative for older viewers.
Director Hayao Miyazaki, of Japan, made this Oscar-winning masterpiece for slightly older kids, with a wonderfully surreal flavor and equally surreal characters; even if you can't follow the plot, there's always something interesting onscreen.
Older Movies
Musicals are a great choice because people with dementia often respond to music well and retain musical memories. And this, of course, is the musical of musicals.
The biopic's big band music will resonate with viewers in their 80s.
Bright colors, great songs, not-too-scary action, and kids love it, too.
Little ones may have missed this modern classic when it was first out in 1995 (and the sequel in 1999), while their grandparents may wax nostalgic about toys their own kids had, like the Slinky dog and Mister Potato Head. If it's a hit, they can all go see Toy Story 3 in theaters next year.
Something Different
Both older and younger generations tend to respond well to animals. This gentle story of a dog and a cat is acted only by a dog and a cat, no humans. Dudley Moore narrates.
Another animal flick, this Oscar-winning documentary is slow but absorbing. Young kids might get impatient waiting for the don't-miss hatching of the baby penguins.
No, I don't know how the story of a man destined to repeat a single day over and over (until he gets it right) goes over in the mind of someone with dementia, but at minimum, the story's repetition is apt to make it easier to follow.