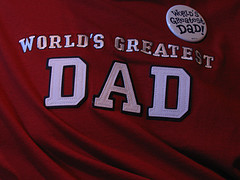 Recently, I suggested buying your dad a home blood pressure monitor for a Father's Day gift (if he has high blood pressure). A perfect present for some dads, but others would see it as an insult: "Get off my back already about my health -- jeez!"
Gift giving is tricky business, and is it just me, or is it particularly tough when you're trying to find something for an older man? It evokes images of unused ties, socks, wallets, and cuff links (does anyone wear these anymore?) stuffed deep into drawers.
But here it is almost Father's Day, and even though it's hard shopping for older dads, the urge to honor them -- just to honor them -- seems to grow with time.
I've decided the best approach is to "Know Thy Father." Forget about all the advertisements. What really matters to your dad? What perks him up and touches his heart?
Consider some diff