Activity of the Week
Write Your Memoir
Last updated: May 21, 2012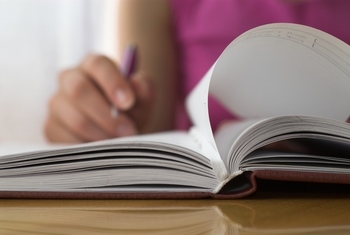 Have you ever thought of writing a memoir? Does the task of writing an entire book seem daunting? It doesn't have to be. A memoir simply means "memory." It isn't as much about writing your autobiography -- from birth on -- as it is about capturing moments. Your memoir can focus on your time in the war, your travels, a medical challenge, lessons you'd like to pass onto your children and grandchildren, or a funny or adventurous time of your life.
What you'll need:
Any way you like to capture your stories -- a legal pad, a blank book, a computer, a tape recorder, a video camera
Why it's great:
Writing ignites the mind! Dust off old memories, ask questions, do some research, connect with other family members, and practice your storytelling skills.

Turning aspects of your life into art is cathartic. Each time we revisit the past, we have the chance to forgive, to understand, and to make peace.

Family members will value your memoir. You're the keeper of their heritage, and your memoir connects them with you and to their history.

Writing is revising. It takes patience and perseverance, which means it's good exercise for your mind. It gives purpose and direction and takes enormous focus.

Writing can create a pattern to your days. You'll get up early and stay up late when you have a story to tell.

Become an author! Self-publishing is easier than ever. For just a few hundred dollars, you can create your own soft-cover book. Or create an e-book that can be read on e-readers.
How to do it:
What stories do you love to tell? Start by writing down the ones you've told (or have been told by other family members) for years. Capture what you and your family already enjoy hearing, and then branch out from there.

Memoirs hinge on a theme, so as you begin to write the stories you love to tell, notice recurring themes and objects.

Write your memoir in one to two typed page vignettes. That's about the length of a short story you'd tell at a party. Writing in vignettes isn't overwhelming, and it's good practice to figure out what to leave in and what to take out.

Ask other family members what they remember. Do some online or library research and pull in historical/regional events.

Is writing or typing difficult? Use a voice recorder, make short videos, or ask a friend of family member to take down your words. Writing is about the ability to tell a story -- not your ability to type or use a pen.

Consider a multimedia approach. Take your words and stories and embellish them with photos, ticket stubs, airplane tickets, and trinkets from your journeys.

Make it dramatic. Write your stories as if you're creating a blockbuster movie -- have moments of suspense or romance; show someone brave and someone else who isn't.

Share your stories with others -- that's what a memoir is meant for! Read your vignettes at the dinner table or at a family event, or self-publish and give copies to your family members.