Activity of the Week
Whittling and Wood Carving
Last updated: Oct 15, 2012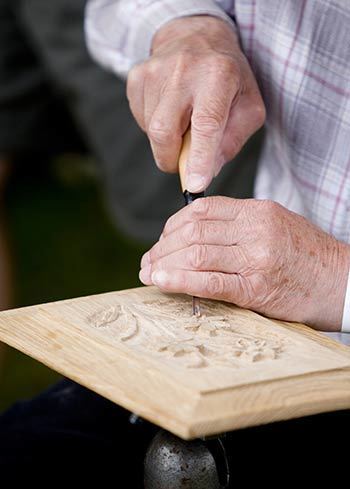 Whittling is something you may remember your grandfather enjoyed. He might have made you a small bird or a wolf's head, and he probably spent many contented hours with a piece of wood and pocketknife in hand.
Now this old-fashioned hobby is back. It's taught at community art and senior centers around the country, and it just might be the perfect activity to offer your dad or granddad hours of pleasure.
What you'll need:
A pair of leather, Kevlar, or yardwork gloves (you might have a pair in your garage) A sharp pocket knife (you're more likely to cut yourself with a dull knife because you'll force it) A piece of soft wood, or a bar of soap to practice on
If you're serious, there are more sophisticated, easier, and safer supplies you might want to purchase:

Palm tools
A sharpening stone
Sandpaper
A leather strop

A rocking chair and a porch -- whittling and rocking just seem to go together!
Why it's great:
Whittling isn't just for guys -- anybody can do it.
Whittling taps into our creative side; it's deeply satisfying to hold something in your hands that you've made.
Whittled items make great legacy gifts. You can attach a whittled work of art to a key chain or necklace, or display it in your home.
Whittling connects generations. Don't be surprised if your nephew, grandchild, or neighbor asks you to teach them how to whittle.
How to do it:
One of the most comprehensive and friendliest sites to explore is Little Shavers.com. It offers a beginner's guide, step-by-step directions, a list of supplies, and whittling ideas. Other online resources include the Art of Manliness: A Beginner's Guide to Whittling and Woodcarving Illustrated.
Check out some directions or a YouTube video tutorial, buy a book, or connect with your local arts community to see if anyone is teaching whittling in your area.
Just try it and see what you come up with.
After you gather your supplies, begin to explore the wood and get used to handling your tools. Some of easiest woods to start with are basswood, pine, and willow. You can even go into the woods and find a great walking stick to carve.
Start with some basic shapes -- a square, a circle -- or try your hand at making a whimsical animal or face.
Connect with other wood carvers online and in your area. There are wood carving forums and events all around the country.
Collect vintage wood items and learn about the history of carving.