Activity of the Week
Toilet Paper Roll Art
Last updated: Jul 30, 2012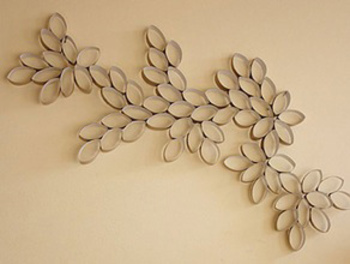 You'll never believe what this is made of . . . toilet paper rolls! We all have them, and most of us throw those cardboard centers away. Why not save them and turn them into wall art or a mobile? You can also enlist older family members to help assemble this easy and impressive art project.
What you'll need:
Toilet paper rolls (aim for at least 100)
A hot glue gun (there's a new low-heat type so you're less likely to burn your fingers)
Spray-paint (if desired)
Nails or wire to hang your art
Why it's great:
If you're on a budget and you have a large, blank wall, this easy art project can save you big bucks -- as well as serve as a conversation starter.
How to do it:
Collect all the rolls you think you'll need (more is better).
Cut them into 1-inch sections. You can even have various thicknesses.
Leave them round or squeeze them into a petal shape.
Lay them on some newspaper or a painter's cloth and spray-paint them on the outside. Consider going with gold, silver, or bronze -- or a pop of color. Or you can leave them natural.
Decide on your basic pattern, but allow the project to evolve. Just lay it all out the way you want it before you start hot-gluing.
How will you hang it? Try hot gluing some fishing line or lightweight wire on the back, or tack several small nails in your wall at strategic points.
You can also turn your sculpture into table art or a mobile.