Activity of the Week
Start a Bottle Collection
Last updated: Jul 23, 2012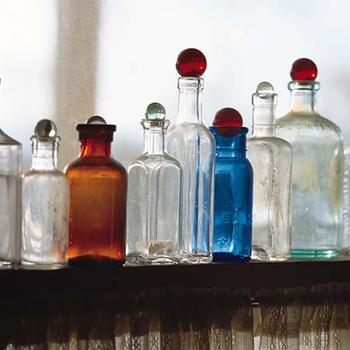 Did you know that people who enjoy collecting suffer less from depression? Starting a bottle collection -- including everything from antique medicinal glass bottles to wine bottles -- can be the beginning of a great hobby or just a fun way to spruce up a blah corner.
What you'll need:
Choose a place to display your bottle collection: maybe a windowsill, a shelf in the bathroom, or a small table. Since your space will determine the size of your collection, the space should come first. After that, decide on what type of collection. Walk around your house and look for what you already have and see where it takes you.
Why it's great:
Collecting is good for the mind. It's based on organizing and classifying, so your brain seeks out similar patterns. Many people with dementia enjoy the sorting process.
A collection is often based on nostalgia. What about collecting vintage Coca-Cola bottles or some other favorite kind of bottle? What stories and memories might be uncovered?
The joy is in the hunt! A collection means that you have to get out of the house and scour unusual places. There's nothing like having a mission -- so enjoy the collecting process as well as your finished mosaic of beautiful bottles.
Share your collection with others. When you tell others about it, they might just get the bug as well -- and you might receive an unexpected gift.
Learn about the history of your bottles, their manufacturer, or what they were originally used for. Every collection is its own education.
How to do it:
Choose a color, a shape, or a type of bottle. You might like your collection to be all cobalt blue bottles, or cola bottles, or glass milk bottles, or amber medicinal bottles. Vary sizes, and don't worry about perfect matches.
Hunt for your bottles at thrift stores, consignment shops, antique and junk stores, and even online.
Fill your bottles with colored water or top them with wildflowers from your yard.
Fill a tray with your bottle collection or line them up on a window sill.
You might even sell or trade your bottles with other collectors!