Activity of the Week
S'more Cookies
Last updated: Aug 20, 2012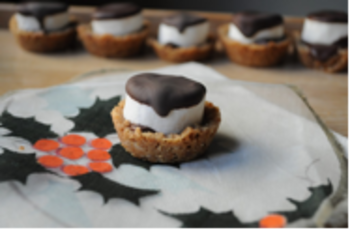 Most of us go camping just for the s'mores, but why not make them at home? This easy, yummy treat is perfect for an afternoon pick-me-up that comes in a bite-size treat.
What you'll need:
8 graham crackers
A baggie
6 tablespoons of butter
1/4 cup confectioner's sugar
Mini marshmallows
12 mini-size candy bars
A muffin tin
An oven
Why it's great:
It captures that family-fun camping feel, but you don't need a tent or a kerosene lantern.
It's an easy treat for all ages and only takes a few minutes.
S'mores lead to camping stories, which lead to campfire ghost stories and silly songs. Let each recipe spark a story.
If you're having a tough day, you know that chocolate and marshmallow might make it just a bit better.
How to do it:
Place your 8 graham crackers in a baggie and crush them with your hands or roll with a can from your pantry, then add the confectioner's sugar and mix it in the baggie with your hands. Place the crushed graham cracker mix in the muffin tin (I use a mini-muffin tin for bite-size treats). Preheat your oven to 350.
Melt the 6 tablespoons of butter in the microwave in a small cup and drizzle over the crushed graham crackers. Place in oven for 4 minutes.
Top each graham cracker-filled muffin with 2 to 4 mini marshmallows, or cut the larger size marshmallows in half with a knife or kitchen shears.
Return to oven until marshmallows have softened.
Meanwhile, open the 12 mini chocolate bars and microwave until melted.
Drizzle over graham crackers and marshmallows and let cool.
These refrigerate for up to a month. Pop in microwave for 15 seconds to get them nice and melted.